VIRTUAL BOOKS




Jazz, Zydeco, Cajun and Country: Roots-Music Diversity in the Greater Baton Rouge Area
By Ben Sandmel

Country Music
Louisiana has made major, national-level contributions to the evolution of country music. Shreveport typically gets the most credit and attention for such activity as the home of The Louisiana Hayride, a live-performance country radio program broadcast weekly from 1948 to 1960.
Country music has long maintained a devoted following all across the state. Significant folkloric fieldwork on various country styles has been conducted in both Louisiana's Florida parishes and Delta parishes. The tradition of community-centered live performances continues today. In the small St. Tammany Parish town of Abita Springs, for one example, the Abita Opry presents six performances a year, with country figuring prominently in the programming. July finds the annual Louisiana State Fiddle Championship underway in Natchitoches, in Natchitoches Parish.
And, for some two centuries, the musical tradition now known as country has maintained an important presence in the Livingston Parish town of Denham Springs. This presence dates back to the westward expansion of the early 19th century, when Anglo-Americans first began to populate the region bringing various British-based folk-music traditions with them. By the 1920s, such sources had melded with popular commercial sounds and ethnic influences—including a strong African-American component—and were marketed as "hillbilly" music, a term considered offensive today. By the mid-20th century, this synthesis came to be called "country music." Today, country styles ranging from classics of the 1950s to the latest commercial hits are often heard in Denham Springs and its environs (Seelinger 1989).
Stonewall Broussard: Country Guitarist
A native of the small town of Galvez, roughly 25 miles southeast of Baton Rouge, guitarist and singer Stonewall Broussard began playing as a youth. Broussard is a staunch advocate of traditional country music. He learned at the feet of relatives and family friends as well as from the recordings of professional musicians heard on records and radio. Broussard thus benefited from folk and popular culture alike. Both sources exposed him to a style dating back a quarter century before he was born which remains his prime focus today. Broussard is neither determinedly old-fashioned nor resistant to innovation. He does object, however, to a prevalent modern mindset in which arbitrary standards of technical perfection take precedence over emotion. Sincerity, in Broussard's opinion, is what gives country music its power and credibility.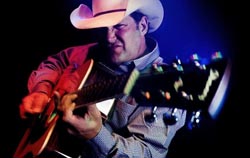 I grew up in Galvez, in Ascension Parish, listening to country records by people like Hank Williams Senior, Willie Nelson, Waylon Jennings, Merle Haggard, and Loretta Lynn, and to live country music played in my family. My uncle, Bruce Broussard, played guitar and sang. He was a very active and popular professional musician in the '40s and '50s, the Hank Williams era. He had a radio show and a TV show in Baton Rouge, and a weekly live show called the Old Country Store with a band called the Round-Up Boys. He played on the Grand Ole Opry, he played with Hank Williams, he played with Ernest Tubb. I have a guitar today that Uncle Bruce gave me that Ernest Tubb bought for him.16
Audio Player
Stonewall Broussard talks about learning to play at age 13 and being influenced by his uncle Bruce Broussard's jam sessions. Field recording by Ben Sandmel.
I started playing at around age 12, 13 by playing with my Uncle Bruce. What was so cool about doing that, as a 13 year-old kid, was that Uncle Bruce would have a jam session every Saturday night. The people who would show up and play were all these old classic guys who had played in the 1940s, 1950s, and 1960s era—and I was able to learn from them. I was very fortunate. These were musicians who had been successful during the time that I consider to be country's greatest era of all, back before computers took over everything and messed it all up. Think about the greatest country records of all time—by artists like George Jones, Conway Twitty, Loretta Lynn, Merle Haggard. Back then they'd just go in to the studio and hash out a song 'til they nailed it, even if the final version they released was take number 58, after a 14-hour recording session. Hank Williams didn't use auto-tune, Waylon Jennings didn't use Pro Tools.17
Audio Player
Stonewall Broussard talks about how he feels about live recordings and the recording industry today. Field recording by Ben Sandmel.
Technology can be great. It's certainly not all bad. But it can also take the human element out of music, and I do feel like we've lost something. Personally, I don't mind hearing a mistake. I want to know that the musician is human. If the drummer speeds up a bit because that's where the song does, what's wrong with that? I want to hear that.
Broussard feels that the music he loves is threatened both by technology and stylistic departures that stray too far from country's roots.
Audio Player
Stonewall Broussard talks about why he likes country music. Field recording by Ben Sandmel.
The reason I play country music is because it tells a sincere, true story. It's all about telling a story, through music, that touches people's lives. I love country because it's so relatable. No matter what trial or tribulation you're going through in life, you can hear a country song and feel like "that singer is talking to me." A good song can really make the listener think that. And not just country songs—there are songs in blues, Motown, Stax, and many other styles which have that relatable quality that makes music great.
In addition to his country roots, Broussard's preference for the soulful, human element in music is based on his interaction with both blues and swamp-pop.18 In the latter genre, he had a family connection: his cousin Van Broussard, a prominent and popular swamp-pop performer.
I'd go see Van Broussard when I was a teenager. Every year we'd do a family reunion at his brother Arthur's house, 16 hours straight of playing music. I'd sit in with Van at swamp pop clubs, too. Back then you could sneak into bars at age 15. Not just to drink but to listen. Kids today don't get that experience. It was a great way to learn to play.
Stonewall Broussard was also personally encouraged by the R&B pianist and singer Fats Domino and his producer, co-writer, and mentor, the trumpeter Dave Bartholomew,19 who strongly influenced swamp pop.
My family used to own a place called Cal's Club on Airline Highway in Prairieville, and Fats Domino used to play there. I got to meet Fats and Dave. Fats knew my grandmother and my mother, and he was very nice to me. One time I had a conversation with Dave Bartholomew about music and he told me, "Son, don't try to figure it out—if it's for you then they can't stop you. You either got it or you don't."
In addition, Broussard was also influenced by the rich blues scene in Louisiana's capital city. Although Baton Rouge has made considerable contributions to the national blues scene, the city's role often goes unrecognized. One reason is that records by such Baton Rouge artists as Lightnin' Slim, Lazy Lester—and, most notably, Slim Harpo—were released by a Nashville-based label, Excello Records. The south Louisiana style of these musicians became known as "the Excello sound," giving the inaccurate impression that they hailed from Tennessee. Broussard absorbed the overlapping influences of these musicians but, as a performer, he focused on primarily on country as well as the related genre of '70s Southern rock—a synthesis of psychedelia, blues, country, and gospel, typified by the sound of The Allman Brothers Band.
There were so many great blues musicians in and around Baton Rouge who inspired me, especially guitarists Tabby Thomas, and his son Chris Thomas.20 I'd go to Tabby's Blues Box and Phil Brady's for blues jams. I loved watching Raful Neal, Kenny Neal. The talent of the Neal family was amazing to me. I remember the first time I heard guys like Lazy Lester, the great harmonica player, and Silas Hogan. Silas always wore his metal hard hat from when he used to work at the Esso Refinery. He wore it on stage when he played guitar. There was a club on Sherwood Forest, in Baton Rouge, I don't remember the name of it, it didn't stay open long, a little hole in the wall. I walked in one night and there was Walter "Wolfman" Washington, from New Orleans, playing guitar and singing. He was amazing. There were blues artists I knew about just from listening to their records. Some of the biggest ones from around here—Slim Harpo, Lightnin' Slim, Guitar Slim—were before my time. Some were national level—B. B. King, Lightning Hopkins, Koko Taylor. I loved listening to all of them.
I went to great blues jams, when I was a teenager, then I'd leave from the blues clubs and go play with great country musicians like Jack Youngblood. He was a fabulous fiddle player who had worked with Bill Monroe and his Bluegrass Boys. I've always preferred country. I got a gig at 14, playing guitar in a local little country band with a guy named Brian Brewer. Then at 15 I started a country band, in high school. We played mostly older country stuff, also some Hank Williams Junior, and Southern rock like ZZ Top, Marshall Tucker Band, The Allman Brothers—Southern rock has country in it, too.
By the time I was a senior in high school I was leading a band called Stonewall and the Silver Eagles. We played all over Louisiana, fairs and festivals. We were too young to headline at clubs. We did mostly country with a little bit of swamp-pop and rock.
Like Joe Lamendola and Mel Chavis, Broussard hoped to have a career as a professional musician. After experiencing all the challenges involved, however, Broussard eventually decided to focus instead on his raising family and running his own business.
I graduated from high school and chose to stay on the path of music, instead of what I should have done, like go to college. I went to Nashville, had record deals that came close a few times, record deals that fell through. I did the whole Nashville musician thing. I traveled a lot. But then I had my two lovely wonderful children and I stopped playing for a good while because I wanted to raise them. My youngest is 17 now. I stayed out of music, I went into business for myself, I had a civil construction company, laying sewer pipe, drainage pipe. I was able to be around the kids and raise them. We all know how hard the music life is, so now I keep a full-time job—I work as supervisor for Turner Industries—and I play music 1 to 3 times a week as the Stonewall Broussard band. I can do a 1-man show, a 2-man show, a full band, give the venue what they like and give the customer what they want to pay for.
Today it's so competitive and everyone's undercutting you. If I can't clear $100 a night for myself it's not worth it for me to play. Plus now the club owner wants you to fill out a W-2 tax form and my CPA explained that doing that will put you in a 49% tax bracket, so you need to charge 50% more just to come out the same, otherwise I'm only going to clear $50 or $60. Then break that down by the hour, and think of all that you have invested—in equipment, P.A., mics, strings, gas to drive there, eating a meal. Add up those expenses and all those hours. Plus the years it took you to learn music. You don't make much, but for some reason music gets in your blood.
Nonetheless Broussard marvels that he still attracts audiences after three decades in the business.
Audio Player
Stonewall Broussard talks about how he still loves to play after 30 years and his appreciation for those who come to hear him play. Field recording by Ben Sandmel.
We complain about the money and everything, but the fact is, that after 30-some years now, people still give me money to do this thing that I'm still so passionate about, that I'm still not tired of doing. People go to the trouble to get dressed up, drive to the club, and spend their money, just to hear some old country boy do his thing. That still blows me away. I'm not going to be a superstar, and that's not what it's about—but if I perform and one person gets touched in some way, that is what it's all about, and that's what's so cool about it. What I would tell younger people starting out today is "it's not about you—the point is: Can you touch one person with a song?" You can't satisfy all the people all the time, but you can satisfy some of the people all of the time.
I don't like to write out a song list, if I do then sometimes I follow it, sometimes not. I like to read the mood of the audience and also read the mood of the band. You've got to know how your guys are feeling, play to their strengths and what they're good at it. Maybe they're not in the mood to play slow songs. But here's the problem: It's my name on the sign, so if someone in the band screws up, I'm the one who looks bad.
Upon returning to music, Broussard discovered that the business had changed significantly. Not only were fewer musicians playing exclusively with one band over the span of their career but venues were also less accommodating to large amplified groups. Broussard continues to perform a traditional repertoire but does appreciate some of the new developments in contemporary country music. One recently evolved sub-genre that Broussard dislikes, however, is "bro country," which is a disdainful term describing music that is formulaic, diluted by other styles, and does not reflect hard-earned life lessons (Smith 2015). Another criticism of bro country, as well as contemporary country music in general, is that the songs are so formulaic as to all sound virtually—or almost literally—identical. Broussard recently expressed such sentiments in a Facebook posting while attending the Bayou Country Superfest, an event in Baton Rouge that often features "bro country" artists: "My God I miss country music, Y am I at a rap concert?" [May 29, 2016]
It used to be if you put a band together, you stayed together and that was your band. Now every good musician plays in four or five bands. Now I need to keep enough musicians, four or five on each instrument, so that I can always have a band. Not necessarily the band I want every time, but I do have a band. When I got back into it three years ago, I hired myself out as a guitar player, until I decided to be a front man.
If I opened a bar today there wouldn't be a TV in it. It's aggravating to play with that going on. Clubs aren't built with bands in mind, We're seeing a lot of downsizing to acoustic music instead of full bands now. Any given night you can hear a solo guy on a bar stool, and that's what the music scene has become—and I do those, too. Club-owners don't always want to deal with a band. If I'm playing a solo gig or working with a band I play the same songs, like "Whiskey River," "Think I'll Just Sit Here And Drink," and "Much Too Young To Feel This Damn Old.21 I've been playing these same songs with three or four chords my entire career. It's not that I hate new country music. I love some of the singers who are big now, Jason Aldean, Kenny Chesney, Tim McGraw. When I perform I have a no-"bro country" guarantee. That means if you want to hear a Luke Bryan song, it'll cost you a thousand bucks—and no one's ever given me a thousand bucks yet.
Hal Higgins: Country Music Steel Guitarist
One of the more respected elders on south Louisiana's contemporary country music scene is steel guitarist and vocalist Hal Higgins. Born in 1950, he spent his early years in central Maine where his home environment was filled with country music. His mother, in particular, was an important early influence, both through her own musical tastes and talents and by giving Higgins his first instrument. As a youth, he and his sisters formed an award-winning singing group. But it wasn't until his teenage years, when Higgins became increasingly taken by the sound of the steel guitar, that he began to think seriously about becoming a professional musician.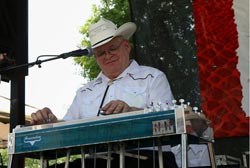 My mom loved to sing, and as a young child I would hear her singing as she went about her day cooking, cleaning, and taking care of her children. I can remember her singing country songs that she heard on the radio, and others that she must have learned from her family as a child. She was always up early making sure that dad had breakfast and [his] lunch [packed] before he would leave for work. Besides singing as such, she loved to yodel. She sounded something like Patsy Montana.22
In the early to mid-1960s we would listen to the RFD Dinnerbell, a mid-day radio show on WABI radio in Bangor, Maine, hosted by Yodeling Slim Clark.23 There were several other singing emcees who performed on local television programs in the area, including Curly O'Brien and his band, The Tophands. Their show featured two different steel guitar24 players—Milo T. Jellison, whom I got to meet and spend some time with in the late '60s, and a third cousin of mine named Joe Macomber. I just loved the sound of the steel!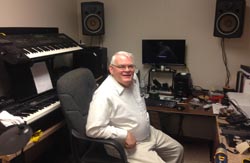 I got started playing music when I was 8 when my mom gave me a French harp, also known as a harmonica. The first song that I learned to play was "Red Wing." At age 10, a friend just down the street gave me an old flat-top acoustic guitar and a chord book, and I started to learn it. My mom would tell me to "take it out behind the barn" because I played the same thing over and over, but she still encouraged me.
I have six sisters, one older and five younger. My oldest sister, Evelyn, and me and the next younger sister, Helen, would get together and sing some of the popular songs of that day, like
"Four Strong Winds."
25 We liked songs that had harmony parts. I've heard it said many times that there's nothing like family harmony. Evelyn would sing the melody line, I would sing the tenor part, and Helen would sing the alto part. We would enter talent contests in the area, and most of the time we would take home first prize. As our other younger sisters would grow and sing, we would add them to our family group.

Higgins would get that opportunity several years later when he left Maine to try to play music full-time. Landing a regular gig at a small Connecticut hotel, he also worked all manner of day jobs. After mastering the steel guitar, Higgins returned to Maine where he played with an array of nationally recognized musicians. Such professional associations soon led Higgins to relocate Nashville—a move that would ultimately lead to the realization of his longtime goal: playing on the Grand Ole Opry.

Audio Player

Hal Higgins tells Ben Sandmel about starting to playing steel guitar while playing in the house band for the Bolton Hotel lounge in Connecticut and having accomplished his goal of playing on the Grand Ole Opry. Field recording by Ben Sandmel.

I was 18 or 19, just out of high school, when I met a man named Orville "Lucky" Look, who was in his early to mid-30s. He played in the local area, and he played the kind of country music that I liked, what I now call classic country. I left for Connecticut with him, to pursue my dream. He played in Bolton, a town just northeast of Hartford. Some musicians in Bolton, the Nigro brothers, owned a hotel there. There's a big audience for country music in Connecticut.26

This hotel gig was a proving ground for me in terms of "Could I make it as pro musician?" My goal was to play the Grand Ole Opry by the time I was 23, which I did—I'll get to that a little later.

Lucky Look got me room and board and I was part of his band playing rhythm guitar seven nights a week. We had lead guitar, steel guitar, bass, drums, and both Lucky and I played acoustic guitar. The steel guitar player, Terry Sutton, left to start his own band. The lead guitar player, Curly Lincoln, had overheard me talking about wanting to learn the steel. One night he brought a steel guitar to the club and said, "Here's your chance!" I spent the next four months doing basically nothing but just that. Finally, I told Lucky I was ready. He said, "Set it up. Let's see what you got." After a shaky start trying to kick off Ray Price's hit

"Crazy Arms," I got through it and I was on my way.27 That was in late March/early April of 1970.

After learning the steel, I left Lucky Look and headed to Westfield, Massachusetts, just outside of Springfield. There I met a musician/band leader named PeeWee Gokey. He needed a steel guitar player. I auditioned and he hired me. Working with Peewee brought me to the attention of a musician and promoter named John Penny, in the Boston area. His last name was actually Piantedosi, he was Italian, and his mother fixed the best lasagna I have ever eaten. He hired me to join his band, John Penny and The Country Sounds. Whenever a Nashville act would come to the Boston area, John would get the call for his band to back them up, and we backed up some great ones: Wanda Jackson, Brenda Lee, and Crystal Gale. And we played a lot behind Dick Curless.28 We traveled a lot with Dick. And we played the Wheeling Jamboree, a live radio broadcast from Wheeling, West Virginia. For a time I played with the house band in Wheeling and that's where I made connections for moving to Nashville. Ronnie Milsap came to sing and I got to back him up. I met other artists and their bands—Ernest Tubb, the Osborne Brothers, and Connie Smith.29 Connie Smith was such a beautiful person, so nice. It so happened that I got to be her steel player for a year, after I moved to Nashville and that's how I got to play the Opry.

Dick Curless was signed to Capitol Record, and so was Buck Owens,30 so Dick got put on a year of package tours with Buck. I was the only musician from Dick's band on these shows, so I got to play with Buck's band, the Buckaroos. Meeting those guys was certainly a treat for me. Through John Penny, I also met rockabilly legend Sleepy LaBeef.31 who plays a wide variety of styles of music, including country. He asked me to come and be his steel guitar player. I did and we are still very close friends. Sleepy taught me so much about different genres of music that the steel guitar could be a part of.

Although he did not grow up in a religious environment, Higgins has long been a devout Christian and felt called to the ministry as a youth. He did not pursue a pastoral life, however, until his mentor LaBeef introduced him to Pentecostalism, a form of evangelical Protestantism that believes in direct experiences of God through baptism in the Holy Spirit.

I need to digress just a little in order to paint the bigger picture for you. Mom and Dad didn't take us to church but they never hindered us from going if we wanted to. I remember going to the local Baptist Church for Vacation Bible School starting around age six. At nine years old, I felt the call to be baptized, and I was. Then at the age of 13, I felt my call to the ministry. I didn't fulfill that call right away but I did so later, after an experience with God that forever changed my life.

It wasn't until after I had met Sleepy and had been working with him for several months that I was introduced to a portion of the Word of God that would forever change my life. Sleepy was raised in south Arkansas, in a town called Smackover, in the middle of the Bible Belt. There are many forms of religion in that area, and he introduced me to the Pentecostal faith. One evening while we were playing cards in the motor home that we traveled in the topic of religion came up. I shared my early childhood religious experiences and then Sleepy opened up his Bible and shared some of what he knew to be "the truth" of the Word. And when we were on the road Sleepy would always try to find a Pentecostal church to take us to. One day in Buffalo, New York, he found a Pentecostal church that was having a revival, early enough that we could attend and still go to play our job that evening.

This particular night was a very special one for me, one that I will never forget. I still have no idea what the evangelist preached about, but I do know is that I was moved from where I was sitting into the aisle, and the preacher was approaching me with an outstretched arm. Before he even got close enough to touch me, I fell to the floor on my back, and the best feeling that I have ever felt came shooting through my body. That was my very first touch of God's Spirit in my life. Sleepy told me later that evening that I had a glow all over me for the rest of the night. He also had told me that I did not have to play the gig that night if I didn't want to, but I did. That experience stayed with me for days and months to come. I welcomed every opportunity to get to go to a service where I could feel more of the same. Sleepy's reputation was expanding and when he was booked to play in England I had to make a decision that would affect the rest of my life. Everything was ready for the tour. The air-fares were paid, passports were in hand, all the arrangements made. Just a couple of days before we were scheduled to depart, I heard the voice of God telling me, "If you go to England with Sleepy I will not deal with you anymore." I told Sleepy that I couldn't go, and the reason why. He never hesitated, he said, "That's alright, we will miss you but do what you feel you need to do." Before he left he gave me a month's salary, a small car, and a travel trailer to live in until I could do something else. They left for their tour and that landed them a spot on the Wembley Festival.32 And I gained the experience with God that my heart longed for, and I have never regretted that decision.

His conversion to Pentecostalism complete, Higgins decided to pursue his childhood call to the ministry, which, in turn, took him to LaBeef's hometown of Smackover, AR, for theological training. Higgins' thirties were marked by other life-changing events including marriage and the birth of his daughter, which temporarily suspended his pastoral activities. As soon as they could, however, Higgins and his wife resumed their ministry, preaching in small churches in the western United States.

During this period of time, I also found my life's partner and soul-mate, Debra (Debe) Jean Dison, and we were married on February 29, 1980. My call to the ministry was re-affirmed, and after a time of learning from the ministry of James E. Warbington, in Smackover—along with a few moves here and there to make a living—our ministry got started. It came to a screeching halt, however, when our beautiful baby girl Amé Rochelle was born on December 22nd, 1983. She's still very much "her daddy's girl"! Once Amé was out of her infancy, we started back on the road preaching revival. Debe also sings and plays piano, and our music was an integral part of our ministry (Higgins 2016b).

In 1987 I felt the call of God to go to west Texas and pastor a small church there, which led to us pastoring in Clovis, New Mexico, in early 1988 through January of 1992. I also did some recording in Clovis, at Norman Petty's Studio."33

After nearly two decades, Higgins retired from the ministry and returned to his other professional calling, music. He began playing with a band in Louisiana, living in Buras, until Hurricane Katrina led the group to relocate to suburban Baton Rouge. Higgins continues to play secular music, unlike some gospel/contemporary Christian performers who decry all non-religious material as "the Devil's music." Higgins augments his income by working for the school board in Livingston Parish. Music remains Higgins' passion, however, realized both through playing steel guitar and operating his own recording studio.

I resigned and retired from pastoring in 2003, and started playing music again with a Christian country-music group called Philadelphia. The group had some pretty good regional success with some original songs that were recorded in Nashville. The band was based out of Baton Rouge, and we were living in Buras, way down in Plaquemines Parish. But we hightailed it out of there just before Hurricane Katrina hit and eventually we moved to our current location in Denham Springs. I love it here.

I know that some musicians who play gospel are very much opposed to playing secular music such as country. For a very long time I felt that way too, because of pastoring and the teachings in the United Pentecostal Church. But now I'm of the theory that if you really want to live for God, you can live for God under any circumstances.

I am still an active musician, I play with local bands in this area. Let me say, however, that the music industry is not the same anymore. In times past, a musician could play seven nights a week and earn a decent living doing so, but it's not that way anymore. Usually now it's weekends, a Friday, Saturday, and occasionally a Sunday. So I work a regular job at the Livingston Parish School Board. First I was a substitute teacher, and now I am a para-professional. I'm like a para-legal, I assist the teachers. I am going to start my seventh year at the Denham Springs Freshman High School. I was at the Senior High for a year and a half before that.

I'm still very passionate about the steel guitar! One day someone may have to pry the bar out of my hand. I play with some local bands such as Clifton Brown and the Rusty Bucket Band, Doug Owens and Sundown, the Stonewall Broussard Band, the Josh Garrett Band, which is a blues group, and others. I have a small recording studio at my residence where I produce demos for people who want to record their original music. Just recently one of my clients, Dennis Ledbetter, asked me to go to Nashville with him and co-produce his new album.
Clifton Brown: Country Guitarist
A police officer by day, Clifton Brown, of Denham Springs, is a traditional country singer who also plays bass, guitar, drums, and piano. He performs frequently around southeast Louisiana as the leader of Clifton Brown and the Rusty Bucket Band.
Brown absorbed country music as a child. Like Stonewall Broussard, Brown learned to play with older musicians in a family setting, absorbing the sounds of his grandfather's generation. Such influences subsequently left Brown disinterested in contemporary interpretations of country genre, and critical of certain performers whose music, he feels, strays too far from country's roots. With this traditionalist sensibility Brown can play comfortably with some of country's most famous "old school" talents—old school, in his case, meaning artists who were popular in the 1980s and '90s.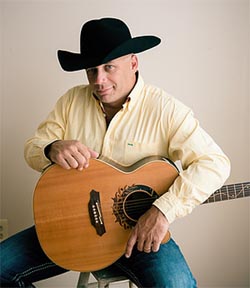 In my household growing up there was Merle

[Haggard], George Jones, and Conway [Twitty], and my dad didn't like us listening to anyone else. I loved those guys, plus some of the younger artists who had a traditional feel—Clay Walker, Tim McGraw, Mark Chestnutt. I also liked George Strait.34 When Garth Brooks came out he kind of twisted things up a little bit. Travis Tritt had a rock edge—but his music and Garth Brooks' was still within the lines of traditional country for that time, the '80s/'90s—it had the big sound on the snare drum, which was more of a modern touch, and very popular then, plus the steel guitars and fiddles which were more traditional.35

It wasn't until a couple of years ago that things went out of control when it all got away from that connection with real country music. A lot of people my age and older can tell you exactly where they were at the first time they heard a certain song, that's how powerful those older songs were—but I don't think it's like that now. And another thing, the new stuff really isn't good for dancing—and country music is supposed to make you dance.

Audio Player

Clifton Brown talks about growing up in a musical family with Sunday afternoons spent playing music. Field recording by Ben Sandmel.

I was born and raised in Denham Springs, and there's country music in my family. My grandfather, Herman Cowart, performed on radio, he played fiddle, mandolin, guitar, and piano. He was the oldest of four boys. Two of his brothers played also. When I was a kid, every Sunday my family would all go to my grandfather's house, that's where we knew we were going after church. Everyone would bring a dish, my grandfather and his brothers would play, their friends would come and play, too, for hours. They played songs by Ernest Tubb and Tennessee Ernie Ford: that was the music of their era. They didn't grow up with TV, so after school they played music. My grandfather showed me a few chords and besides that I'm self-taught, by instruction books. I just turned 40 and over 20 something years of playing you gradually get more advanced.

I got to open up for Merle Haggard once. He signed my guitar. I told him I was honored, and I said, "You wrote all those great songs," and he said, "Son, I

lived all those songs." He was from the heart. And he was a sophisticated musician. What put his music above everyone was he used minor chords and augmented suspended chords, when other people weren't.

Brown feels that country music has become overly produced and consumed with image, deliberately perpetuating some of its more clichéd elements and thus becoming one-dimensional. Brown, in contrast, plays an array of styles—in part to please his audiences whose tastes range from pop to Cajun. While Brown is willing to be eclectic and accommodating, he does eschew some genres, whether heavy metal or recently emerged pop-country hybrids.

To me, country music is being profiled today. For you to be considered country, now, you've got to have a Skoal36-can ring on the back pocket of your jeans, have a tractor, wear a flannel shirt and blue jeans, all that. It's nothing like what it used to be when guys would dress up to go out and perform, everyone would wear nice starched shirts and cowboy hats. Now it's jeans and Mohawk haircuts and chains hanging out of their pockets. Playing Les Pauls and Marshall stack amps, that's not country.37

Now playing a Fender Telecaster through a Fender Blues Deville amp with some compression on it—chicken picking—that's country, in my opinion.38 But traditional country has lost all that. It got really hard around here for a while to keep playing traditional country.

This profiling of country affects song selection. We have a new CD that will be out very soon, the title will be Country: Live it … Love it … Breathe It!, released on my label, Thin Blue Line Records. The featured single is "Next Sunday's Paper." When I started working on the album people from here and from Nashville were sending me songs, trying to get me to record them. But so many of those songs sounded so much alike, with the same ideas, like "I've got my girl in a pick-up truck, and she's got long legs, we'll go out to the lake and get stuck in the mud, a tractor will have to come pull us out. … " and anything that will rhyme.

I play several instruments but I'm most comfortable with singing when I play acoustic guitar. I have more of a Texas western swing sound like Bob Wills than a south Louisiana sound. My wife and I owned a restaurant, the Rusty Bucket Steakhouse, and we played live music four nights a week. We were the house band there and I learned that you've got to play dance music, and mix it up—waltzes, two-steps, shuffles. As a musician you're there to entertain and make money for the club. Around here you also have to play

"Brown Eyed Girl" by Van Morrison and all kinds of different stuff that's popular. If you go out around Lafayette they want Cajun music, if you go to Gonzales they want swamp pop, but right around here what people want to hear is country. A few years ago we played a big show in South Haven, Mississippi, and the people there were blown away that we could go from George Strait to "Mustang Sally" to "Play That Funky Music White Boy."39 When you're a working musician that variety is what pays the bills, and as a musician and the owner of the band you want to get rebooked, and you want to get the people who come see you to keep buying beer.

There's still a time and a point where you have to draw the line. I am not going to sell myself to the devil to go play. For example, I will not play anything by KISS.40 I never listened to that. And I won't learn some of this new country or "bro country"41 stuff, say, by Eric Church, people request it and I say no. That stuff has rappin' and drum machines in it, and people are tired of this new stuff. They want their country music back.

In '91 or '92 George Strait came out with

"Pure Country," the movie that was based on Garth Brooks' stage show where Garth would swing on ropes and all that. There was some tension between George Strait and Garth Brooks after that movie came out—Garth took offense when George said "I don't need the smoke and the lights—just give me a guitar, my voice is an instrument." And that's how I see it, too. I remember hearing a radio interview with Joe Diffie.42 Someone asked him, "When are you going to make a new album?" and he said, "When radio starts playing real country music again." We just opened for Joe Diffie at Blue Bayou Water Park in Baton Rouge, his live shows are incredible.

Brown keeps an astute eye on the national country-music scene, and despite his dislike of much of what has is currently popular, there are certain performers who give him hope for the future of the genre.

I'm very glad to see lately that a really traditional-sounding artist, Chris Stapleton, is getting a lot of attention, I hope he can bring country back to where it should be.43

Meanwhile, Brown continues to work at guaranteeing there is hope for country's future, according to his traditional standards. One way to do so is by performing regularly.

Me and the band play every weekend. In Denham Springs we play at Papi's, Loretta's, Crazy Dave's, Coach's Grill, the Warehouse, and then every third Saturday we play at Grand Country Junction in Satsuma, Louisiana. My band is Chris Smith on bass, 5-string bass, he's really solid. All the band members are session players. They all read music. When we go play a show we're all reading charts, Nashville number charts.44 Danny Harrell is our band leader and steel guitar player. His wife Brenda is our back-up singer and she also sings some lead. Paul Goldman is the drummer, and Ralph McGee is our lead guitar player, our chicken picking guitar player.

Audio Player

"Next Sunday's Paper" sung by Clifton Brown, written by Kenneth Wright.

Another far more permanent method of maintaining hope for the future is the fact that Brown records songs, such as "Next Sunday's Paper," that reflect country music's dual affinities for religious reverence and a delight in humorous word play. These themes may seem antithetical at first glance but in fact they fit quite well together:
Next Sunday's Paper, verse 1 and 2

by Kenneth Wright

If I could read next Sunday's paper right now,
I'd know who's going to kick the bucket before they blow their last breath out.
Well I could call them up and warn them all to touch base with their maker.
Well I might save some souls if I could see next Sunday's paper.

If I could have next Sunday's paper 'fore they write it,
there'd be some major changes made before they buy it.
I'd be a big old rich hill-billionaire, give half or more to the man upstairs,
be the Nostradamus of our generation—if I had next Sunday's paper.
Few if any of Louisiana's traditional musicians are apt to ever attain billionaire status (although Fats Domino may have come close.) Most, in fact, make very little money in proportion to all the time, energy and expense that they invest in their musicianship. But they play on, nonetheless, and Louisiana is a richer place thanks to their efforts.