ARTICLES & ESSAYS


Rockin' the Country, North Louisiana Style
By Michael Luster
Mention the words "Louisiana" and "music" in the same sentence and most listeners conjure an image wrought of New Orleans or the Cajun prairies, a jumble of jazz, rhythm & blues, zydeco, and Cajun two-steps. But the northern half of the state also has its riches, particularly in the intersecting realms of country and rockabilly. Rockabilly is where country meets the jumpin' blues.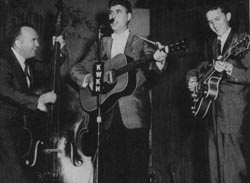 Shreveport has been both the magnet and the reflector for North Louisiana's music, providing both an outlet and an affirmation for the musical synthesis which became a musical hallmark for the region. As early as 1925 Shreveport's KWKH was broadcasting performances by the members of the Old Time Fiddlers Club of North Louisiana and soon followed with regular appearances by the Taylor-Griggs Louisiana Melody Makers, the Shelton Brothers, and future governor Jimmie Davis. Davis is now best known for his gospel songs and the familiar "You Are My Sunshine" but beginning in the late 1920s he was an often-raunchy, blue yodeler who swapped songs and recorded with some of Shreveport's finest bluesmen. His Decca recordings brought black and white musicians together often on material that flaunted more than one social convention. Hot, loose, risk-taking playing with a sense of fun and drawing on both black and white style and experience was to be a regional tradition.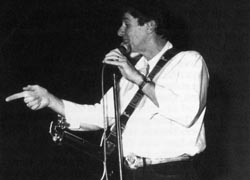 KWKH boosted its power to 50,000 watts in 1939 sending its Hillbilly Amateur Show to an even wider audience until the Second World War depleted the talent pool. In 1948, a replacement was started called the Louisiana Hayride soon to be dubbed the "Cradle of the Stars" for the number of Louisianans and others who launched their careers there. The first was Alabaman Hank Williams, who spent ten months on the new program before leaving for the Grand Ole Opry, only to return shortly before his death at 29 from a rough mix of drink, drugs and fast living. Like Davis, Williams drew inspiration from the blues and inspired many a hillbilly cat to follow him at least part of the way down the lost highway. Among them was West Monroe native Webb Pierce, now best remembered for his outlandish sense of style—he's the man who really did have a guitar-shaped swimming pool in Nashville—but who in his day brought the sound of honky-tonk into the age of the space-age pedal steel, an instrument previously best known for sci-fi movie sound effects. Like Williams, Pierce was a proto-rockabilly with songs like "Teenage Boogie" but his tastes—or at least those of his record company—ran more to country weepers like "Slowly."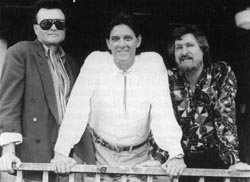 In 1954, another rising star landed on the Louisiana Hayride six years after Hank Williams and just three months into his own recording career. Elvis Presley was nineteen years old and sporting a synthesis of country and blues which was ripe in all reaches of the Mississippi Delta. As Presley toured within range of his regular Saturday appearance on the Hayride, a crop of rising rockabillies sprang up. The first to record was Natchitoches-based Al Ferrier and His Boppin' Billies with a sound somewhere between Presley's rockabilly and the late honky-tonk sound of Beaumont, Texas native George Jones. On the Hayride itself though were a cradle full of North Louisiana musicians ready to push the rockabilly synthesis into the next level. While Ferriday's Jerry Lee Lewis was turned down at his Hayride audition, pianist Floyd Cramer became musical director in the early 1950s, soon joining Presley in the studio, even as house-drummer D.J. Fontana joined him both there and on the road. From just over the li ne in Arkansas, Smackover native Sleepy LaBeef not only would get to play the Hayride but also got an education listening to disk jockey Ray Barlett who played hillbilly boogie records under his own name and rhythm & blues disks under the name Groovy Boy.
The Hayride didn't hold Presley long, but in his wake came many others. From Winnsboro, Fred Carter, Jr. switched from fiddle to electric guitar to land a spot in the band of Werley Fairburn. Both Carter and James Burton experimented with re-stringing the smallest string on their electric guitars with lighter gauge banjo strings to be able to produce stinging, note-bending solos. Burton was first to join Goldmine native Dale Hawkins who signed with Chicago's Chess Records at 17, virtually the only white artist on the label. For their first hit, they recorded the seminal "Suzi Q," reportedly creating the memorable guitar lead lick by speeding up a Lightnin' Hopkins blues record. The lick and song proved serviceable enough that Creedence Clearwater Revival needed only add some gothic meanderings for an introduction to have a hit with it ten years later. When Burton left Hawkins for a regular gig with television star Ricky Nelson before going on to play with Elvis himself, Hawkins hired Fred Carter, J r. as replacement. When Dale Hawkins's cousin Ronnie stole Carter away (both cousins were consummate bandleaders), Dale hired a string of the best guitarists working in North Louisiana and the world, including Roy Buchanon and eventually West Monroe's Kenny Bill Stinson. The legacy of the Dale Hawkins Band was that they created the link between rockabilly and the heavy guitar blues rock of the British Invasion, the missing link between Hank and Elvis and the Yardbirds and Led Zeppelin. These days James Burton in fitting fashion works with British synthesizer Elvis Costello.
Johnny Horton had created an early mix of honky-tonk and rockabilly—with a latter bit of the folksong revival thrown in—with the help of area musicians and songwriters Tillman Franks, Tibby Edwards, and Merle Kilgore. At a talent contest he met a girl named Margaret Lewis who led a high school rockabilly band called the Thunderbolts and he brought her to the Louisiana Hayride. She went on the road with Dale Hawkins's band as a background singer and even cut her own single on Chess before meeting a guitarist and record producer named Mira Smith. Together Smith and Lewis operated Shreveport's Ram Records, an independent label whose products are much sought by collectors today. Lewis's own demos from the period have a fire and a grace that bridge the accomplishments of other female rockabillies like Wanda Jackson with the sultry stylings of a Patsy Cline.
Their principal cross-town rival in the record business was Stan Lewis's Jewel and Paula labels. Lewis had entered the record business in 1948 just as Chess Records was getting off the ground. He sold some of their "race records" and soon began recording local talent for Chess to release. In addition to blues records, he recorded Dale Hawkins's Chess releases including "Suzi Q." In 1964 Lewis formed his own label and began recording music which sought to meet the British challenge. He recorded Baton Rouge native John Fred who had previously recorded in Monroe. Monroe was also the home of the Roller Coasters, a band started by Tookie Cullum (of Henry and Tookie fame) and fronted by G.G. Shinn and Jerry LeCroix. John Fred and His Playboys did well for Lewis, going all the way to number one with a Beatles parody "Judy in Disguise (With Glasses)." Equally talented if not quite as lucrative was Springhill native Joe Stampley and his band the Uniques whose record "All These Things" was a monster region al hit and landed them a spot on American Bandstand, the nation's top-rated music program. The Uniques and the Playboys reflected the British reflection of the American music created around them.
Stampley was discovered by country songwriter Merle Kilgore, recorded by blues recorder Stan Lewis, and produced by rockabilly bandleader Dale Hawkins. Stampley would eventually find big success in country music with hits like "Soul Song" before uniting with John Fred and G.G. Shinn to form the Louisiana Boys.
Country has finally become the heir again of the synthesis of black and white music which has been so at home in North Louisiana. From the raunchy white blues of Jimmy Davis through the rockabilly fire of Dale Hawkins and Margaret Lewis to the reflected glory of the Uniques and the soul of Tony Joe White to new country from Tracy Lawrence and Tim McGraw, North Louisiana rocks the country and much of the cream rises to the top.