ARTICLES & ESSAYS


Sabor Latino: Central American Folk Traditions in New Orleans
By Shana Walton
Since Hurricane Katrina, the Latino population in New Orleans has jumped by at least 10,000 new residents. According to the Louisiana Health and Population Survey, released in November 2006, the number of Latinos living in households in Orleans and Jefferson parishes has increased by about 10,000 since 2004, to 60,000, even as the total population of the metro area has fallen. There are the new taco trucks in neighborhoods, more signs in Spanish, more festivals, and several new hotspots to hear Latin music. With all the recent vibrancy, it is easy to think of New Orleans as a newly Latino city. After all, until recently, New Orleans and Louisiana had the lowest density of Latino immigrant residents of any major city and state in the nation (US Census 2000). But the ties actually go back centuries, and Latino communities have deep roots in the city. New Orleans, whether it was cooking, music, or design, has always had a strong sabor latino, or Latin flavor. Now, as new and established communities of Latinos are working to preserve and display their culture and heritage, the Latin flavor is rising to the surface again.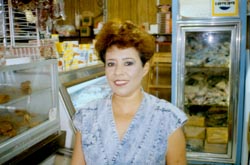 The label "Latino" in this essay follows the same usage as the category adopted by the U.S. Census, covering people whose heritage is tied to a Spanish-speaking country, either Spain itself or countries in Latin America or the Caribbean. This label is a problem, though, because it lumps together people from very different countries, continents and ethnic groups. For example, many Native Americans from Mexico, Central and South America become "Latinos" when they immigrate to the U.S., but they don't necessarily have Spanish ancestors or even speak Spanish as their first language! The people interviewed for this project used "Latino" as well as other terms, such as "Hispanic" or "Latin American," to describe themselves. Most of them, however, preferred truly ethnic or national terms that specifically indicate where they are from, such as "Chicano," "Honduran" or "Brazilian." Importantly, no one found the label "Latino" offensive and most people recognized that it serves as a meaningful designation for a diverse group of people historically linked by language and colonialism.
Old Connections: Latinos and New Orleans
The links between New Orleans and Latin America are older and deeper than for much of the United States. Louisiana and Latin America share a history of Spanish contact and control. After all, DeSoto walked in the state and died on the banks of the Mississippi more than a century before French explorer, Robert Cavalier, Sieur de la Salle proclaimed the land "Louisiana" in honor of King Louis XIV. The history of New Orleans switching from French to Spanish control is well known. Indeed, every New Orleans tour guide will tell you that Spanish colonial architecture actually gives the famous "French" Quarter its distinctive look. New Orleans and south Louisiana have long been tied by ports, commodities, governments and people in Latin America and the Caribbean.
The story of Jose Barrios is a good example of new immigration on top of old ties. Jose was an electrician in Honduras who came to New Orleans about ten years ago, moved to Gretna in Jefferson Parish, starting working in the construction industry, and a few years ago began his own subcontracting business. He moved his mother here, and she now keeps house for him. He works long days, makes a good living, and is studying to become licensed as an electrician here in the States. Jose learned enough English to function as a construction worker, but he does not feel comfortable just chatting in English. So his home life and social life are in Spanish with shopping in Latino grocery stores, church with a Spanish mass and trips back to Honduras each year to see friends and family. Every one of his employees is from Honduras, and he lets people in his hometown know that they can contact him to get work. In this way, friends and family, bank managers or office workers in Honduras, come to New Orleans and do short-term work in Jose's business, creating a corridor for more movement of Latinos to New Orleans.
At first glance, Jose could be seen as among the waves of new immigrants coming to New Orleans over the last decade for economic opportunity. People like Jose have increased the Latino population of towns like Gretna and Kenner in Jefferson Parish, where there are now at least four Latino grocery stores, several Latino restaurants, and businesses with ads in Spanish line Williams Boulevard in Kenner. Even before Katrina brought waves of Latino workers to help rebuild the city, Latinos had grown to 14 percent of the population of Kenner (U.S. Census 2000). In 2006, the Kenner city council election included the city's first Latina candidate.
Underneath the story of the last decade of immigration, there is an older story for many of the new immigrants. For example, Jose is a new immigrant with an old history. His grandmother, his father's mother, was born in New Orleans. Jose remembers her maiden name as "French." His paternal grandfather worked on the Honduran coast, at a port for one of the fruit companies, and as a young man frequently traveled between Honduras and New Orleans. He married a New Orleans woman who had a job with the ports and took her to Honduras, where they settled down to raise their family. Jose does not know his history beyond his grandmother's "French" name, but Ariana Hall, a specialist in New Orleans Latin American history and director of CubaNola Collective, points out that Jose's grandmother may have been part of the centuries of trade that tied that port of New Orleans to Latin America and the Caribbean. One possibility, she suggested, is that the grandmother with the French name was part of the wave of francophone immigrants from the Caribbean island of St. Domingue (today, Haiti), long a New Orleans trading partner and a logical place for francophone refugees after the Haitian revolution. Such a story would place Jose at the most recent end of a multi-generational story that shows the web of connections among the Caribbean, Latin America, and New Orleans.
Thousands of people in Caribbean and Latin American countries, particularly people living in coastal communities, have links to New Orleans. In the last 10 to 20 years, as opportunities opened up in New Orleans, Latinos have built on older links to relatives, ancestors or to people from the same community to migrate to the region in increasing numbers. In addition, hundreds of Latinos without these links are also coming, drawn by opportunities in construction and by the need to provide services to a growing community. They bring with them strong families, a strong work ethic, and strong folk traditions.
Honduran Connections
Honduras has been one of the largest trading partners with New Orleans, and today people from Honduras comprise the largest national group now living in New Orleans. The 2000 U.S. census shows 11,237 residents born in Honduras. Pre-Katrina, the Honduran population could be clearly seen as both larger and more concentrated than other Latino subgroups. For example, the same census reports more than 9,000 people of Mexican descent in the state. However, while only about 30 percent of Louisiana's Mexican population live around New Orleans, almost 90 percent of the Honduran population lives in Orleans, Jefferson, Plaquemines, St. Bernard, or St. Charles parishes or on the north shore of Lake Ponchartrain. So while the entire state is seeing a growing population of people from Mexico, the growth in Hondurans has been concentrated around New Orleans. The result is that the Honduran population is clearly dominant in the New Orleans area. The Spanish-language newspapers, radio station personalities, directories, and business resources centers are often staffed by Hondurans. Most of the Latino grocery stores stock Honduran items, and lunch places cater to Honduran styles of Latin food (such as Honduran-style tamales and tortillas). For instance, Honduran tortillas are usually made with masa (corn flour), while some groups in Mexico make their tortillas with wheat flour. While refried pinto beans are more likely in a Mexican restaurant, Honduran restaurants often prefer to serve frijoles negros (black beans). Encurtidos (pickled vegetables), which are eaten only on special occasions in many Latin American countries, can be seen as a daily side dish in Honduran restaurants. Many Hondurans have emerged as Latino community leaders, including people like Scarlett Alaniz-Diaz, a former Hispanic community liaison for the City of Kenner who is making her second run for public office in 2008, and Karla Sikaffy, who directs the Hispanic Chamber of Commerce.
Maintaining Latino Folkways
Foodways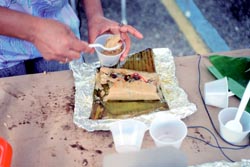 The many traditions maintained in the New Orleans region include foodways (arguably the strongest tradition), religious and ritual traditions, music, and crafts. The growing Latino population is also working to maintain their mother tongue. Foodways are perhaps the most visible tradition to non-Latinos. For more than 30 years, La Union Supermercado has been offering New Orleans food and spices for Latino tastes. But Latino offerings have expanded from a few scattered sites throughout the city with a concentration of businesses at the historic Los Latinos plaza on Florida Avenue and along Williams Boulevard in Kenner to sites throughout Kenner, Metairie, Gretna, and New Orleans. After Katrina, "burrito wagons" popped up all over the city, serving street food to hungry workers and new treats to others who were curious. (Jefferson Parish passed an ordinance banning food vendors from operating in movable buildings, which was an unsuccessful effort to suppress the emergence of the "burrito wagons". Many of the owners shifted operations to New Orleans.) New Orleans has been home to Central American restaurant owners for more than twenty years; however, in the past, many of those owners, like the Central American owners of Taqueria Corona, served mostly what customers would think of as Mexican or Tex-Mex food. As the number of restaurants increases, cooks are catering to specific Latino tastes. In a given restaurant, customers can order pupusas (a thick El Salvadoran corn tortilla stuffed with either cheese, beans or pork), nacatamale (a Nicaraguan tamale that is made of corn meal, larger than a Mexican tamale, stuffed with peppers, cheese, meat, and other things and then wrapped in a banana leaf and steamed), or atole (a sweet, thick drink, often served hot, made from corn, found throughout Mexico and Central America). For instance, Beracas, a Honduran restaurant that opened in Metairie in the last five years, offers not only traditional "Mexican" food, but also encurtidos, (spicy, pickled vegetables) and hand-made corn tortillas. Sonya Tabora, a college student at the University of New Orleans, came with her parents from Honduras when she was small. She learned to make encurtidos from her mother and says they are served on the table at her house every day. In other Latin American countries, encurtidos are primarily eaten as feast food during Semana Santa (Holy Week or Easter). Even though she can buy plenty of pickles off the shelf in U.S. grocery stores, making encurtidos is one way Sonya reminds herself of her Honduran roots.
Less well known to non-Latinos are Central American bakery items. Often people think of corn-based breads when thinking of Latin America, but wheat-based cooking has a long tradition in dishes like Trés Leches cake. Many of the sweet breads go under the general name pan dulce (sweet bread). Favorites include small hard rolls and cake-like squares that are cut into small sandwiches filled with guava or other fruit. Seasonal baked treats include pan de muertos (Day of the Dead Bread) and rosca de reyes (literally,"king's rings," a sweet bread served on Epiphany or Three Kings Day).
Music and Dance
Music is alive and well in the Latino community and provides a common bond for many Latinos who are otherwise separated by nationalities in food and ritual traditions. As one new immigrant said, "When I am in Central America, I am Guatemalan, but here I am Latino and I dance to salsa like all Latinos." Salsa is dance music with mixed origins. Many consider it to have its base in Cuban són, to have developed further through Puerto Rican music, and brought to full life and international popularity in New York in the 1950s and 1960s. Whatever its origins, salsa is now played throughout the Latino world and serves as a folk tradition that creates pan-Latino bonds. In 2007 in the New Orleans metro area, there were several nightclubs that offered at least one night a week of salsa music for dancing, often at the Blue Nile or Café Brasil, both downtown.
Latin bands are popular. One of the most well-known bands is Fredy Omar con su banda, which plays most years at the New Orleans Jazz and Heritage Festival. Fredy Omar is a Honduran who successfully toured Honduras and El Salvador before moving to New Orleans. His group has managed to have a large non-Latino following.
Other bands are less well known generally but are wildly popular among Latinos. Ovi-G and the Froggies (los Ranitas) perform almost constantly, mostly for Latino audiences, although they are starting to build crossover appeal. The Guatemalan group's current members are the children and grandchildren of the group's original members. When the group was formed in Guatemala, they played mostly marimba music. The marimba is often called the national instrument of Guatemala. The group immigrated to the U.S., and in the 1980s, began experimenting with more commercial sounds, including soca. Soca is a Caribbean style that originated in Trinidad, made its way to the Caribbean coasts of Belize and Guatemala, and then became popular throughout Guatemala. Ovidio Girón, the group leader who sings, plays marimba and trumpet, brought Los Ranas to the United States to evolve into Ovi-G and the Froggies. He says his band now plays a mezcla, or mix of styles, including salsa because "everybody listens to salsa." But he also stays true to his roots and continues to play the marimba at most performances. He maintains another Latino tradition of strong family ties, as all band members are either his children or nieces and nephews. The group's first CD tied their Guatemalan sounds to their new home and was titled Soca in New Orleans.
In addition to music, salsa dance is important to many Latinos as a cultural tradition. A few freelance dance instructors show up on salsa nights at local clubs and offer lessons - to both the non-Latinos who show up and the younger Latinos who are just learning. A more structured approach is offered at the Cervantes School, Fundación Hispanoamerica de Arte, in Kenner, which offers classes in most South American and Caribbean dance styles. The school also has lessons on instruments, like trumpet and classical guitar, as well as theater performances and programs for children. Brazilian dance is represented by Casa Samba, which has been promoting samba-school dancing in New Orleans since 1987.
Almost all national groups in New Orleans have a cultural organization to support and preserve heritage, as well as to maintain connection with home countries. Tulane University's Stone Center for Latin American Studies maintains a list of Latino cultural and political organizations and most are posted on its website with contact information. Most of these groups were founded pre-Katrina and testify to the efforts Latinos in New Orleans have made to preserve their heritage.
Gathering Places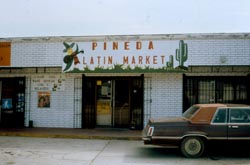 One important way of maintaining folk traditions is by having central gathering places. In New Orleans, many of these gathering places are small stores that cater to Latino customers. These are often small vendors that mimic the sidewalk tienda (store) tradition found throughout Central America. These stores serve as information centers with Spanish-language newspapers and local Spanish-language phone directories; gift stores with small presents; business centers to transfer money to relatives still in other countries; and also convenience stores with familiar snack foods like yucca chips, nectar drinks of tamarind, guava or mango, pan dulce, or a package of the ubiquitous Maria cookies (a small cookie that tastes much like an animal cracker) as well as necessities like diapers, soap, rice, and other basics. One such store is Mamacita's on David Drive in Metairie, run by Teresa Hernandez, who emigrated from Mexico in 2000 and opened her store just a few months before Hurricane Katrina hit. More than familiar foods, Mamacita's provides an all-Spanish speaking, specifically Mexican American environment to its customers. Guarding the tienda is a Virgen de Guadalupe, a patron saint that is recognized as a source of national identity and pride for most Mexicans and Mexican Americans. In the background, Teresa keeps the popular Spanish-language television station Univision playing loudly. Posters of Mexican soccer teams, Mexican beer ads, and Latino celebrities line the store's walls. These added cultural elements create an environment that can immediately surround Latinos, especially Mexican immigrants, with a feeling of immersion in a safe and familiar linguistic and cultural environment. Teresa says her customers are "mitad y mitad" (half and half) from Mexico and other Central American countries.
Religion and Ritual
At least half of all Latinos from Central America and the majority of Latinos from other countries are Catholic, providing a common ground for many religious and ritual traditions. Some key celebrations include King's Day (January 6), in which many families exchange gifts and eat special foods. King's Day (also called Three Kings Day and Dia de los Reyes) is celebrated across Latin America. The Day of the Dead (Dia de los Muertos, November 1), however, is principally a Mexican holiday (although also celebrated in Brazil). On the Day of the Dead, people often-clean graves and have picnics in the cemetery. This tradition is similar to traditions of All Saints Day in South Louisiana. Christmas (navidad) is marked by the nine days of Las Posadas (the inns), in which a family or group re-enacts Mary and Joseph's search for shelter. The group travels from house to house, singing to gain entry and are ritually refused, until they reach the house of the hosts for that night's posada, where they are welcomed and everyone comes in for a party. Aristides Baraya, a Honduran who now directs the Latin American Business and Development Initiative at Southeastern Louisiana University participates in area posadas. He says the tradition celebrated in New Orleans is not identical to posadas in Honduras. For instance, he says it that in the newer tradition there might not be a posada every night or the posada could be held at the church, with many people chipping in to make it a success.
Some rituals that once held importance have faded, as immigrants have adapted to their new country. Scarlett Alaniz-Diaz notes that while infant baptisms are still an important ritual, families no longer have the baptismal gowns hand made, but instead order them from stores. As a result, she knows few women who maintain Central American sewing traditions. In addition, both she and Baraya noted that, for some, the traditional quinceañera, the party held on a girl's 15th birthday, has changed from a community ritual to "just a big party" with the girls' friends and family. Alaniz-Diaz said that many of the "small traditions" surrounding the party have disappeared, such as giving gifts in a particular order or giving only specific gifts and the girl's obligations to community and elders. "Our daughters want parties like American girls have, more like a sweet sixteen," Alaniz-Diaz says.
Crafts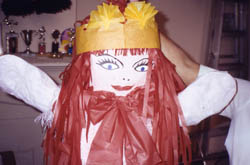 Many crafts, particularly handcrafts, are traditions that are not transferring easily. Almost no one in the Latin American community in New Orleans has maintained traditional back-strap weaving, and only a few can still do traditional sewing, such as the intricate needlework and cutwork in baptismal gowns. One craft that has survived is the making of piñatas. Maria Gonzalez is from Honduras where she was a school teacher. She took lessons from a local person there in how to make piñatas, to be able to make them for her children and family. When she was still living in Honduras her husband passed away and left her a widow with five children to support. She came to the United States in the 1980s and tried several types of work, still making piñatas on the side for friends and family. She was quite talented and could make almost any design requested. Soon she began to get orders and that led to starting her own business. She said there is more demand for piñatas here in the United States than in Honduras. She also explained that, while many orders are the same, in New Orleans she is more likely to be asked to make a cartoon character, such as the Tazmanian Devil or Snoopy, than she was in Honduras. After twenty years in the New Orleans area, she is still struggling to speak English, but her business is successful and all of her children have gone to school and gotten good jobs. She has accomplished more in Louisiana, she says, than she could have in Honduras. Tragically, her house was flooded in Hurricane Katrina and her complete inventory and all her supplies were destroyed. She had no insurance. Like most Latinos, she is now busy making piñatas, rebuilding her business one fiesta at a time.
Latin Flavor
While the Latino population had been growing in New Orleans for the last decade, immigration after Hurricane Katrina accelerated the community's growth. The result is a new, vibrant presence of Latino culture in the New Orleans region. More than two years after the hurricane, the new Latino population gives no indication of being a temporary glitch, but in fact shows signs of putting down permanent roots and making visible, once again, the city's long history with Latin America.