ARTICLES & ESSAYS



Mardi Gras Indians: Culture and Community Empowerment
By Michael Smith
The Mardi Gras Indians of New Orleans are a striking example of a cultural treasure which deserves recognition and appropriate economic benefit. The Mardi Gras Indians are much like Cajuns in that they were looked down upon, misunderstood, and misrepresented by outsiders and insiders as well. Outsiders considered them to be little more than flamboyant and dangerous street gangs. Members of the larger, surrounding Black community considered them to be "low down", outlaws, and socially embarrassing. Even today most individual members of "Indian gangs" know very little about their history beyond their own dynamic oral tradition, and cannot even imagine being considered culturally valuable or having an economic future through performance or sales. But they are indeed a classic example of a submerged culture quietly serving the spiritual needs and interests of a tightly knit traditional community, carrying on and preserving a complex music, art, and culture, under the most oppressive and insular circumstances.
Video Player
Excerpt, American Patchwork: Jazz Parades. White Eagles on Mardi Gras day in New Orleans and at rehearsal at a local club. Directed by Alan Lomax. Produced by Vestapol Productions, 1990.
The "Mardi Gras Indian" tribes of New Orleans are, in fact, the oldest cultural organizations surviving from the original African tribes which were brought into New Orleans during slavery days. The tribes are particularly noted for preserving African "dress art" and musical heritage in the New World. The sewing and beadwork incorporated in Mardi Gras Indian suits, which are destroyed and redesigned each year, are widely considered to be the finest example of traditional African-American folk art in North America. Now long hidden in the Black ghettos of New Orleans, the Mardi Gras Indian tribes pursue cultural traditions, rooted in what they think of as a mysterious past, which despite being some 10 to 15 generations removed from their origin in Africa, still give them pride and serve to maintain their spirits against the dehumanizing effects of modern society. The social and cultural activities of the present day tribes continue all year around, and they endure as the carriers and preservers of a rich heritage.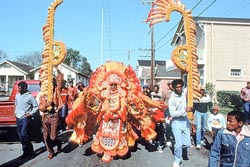 The yearly cycle of activities for present day tribes culminates on Mardi Gras day when the various Indian gangs explode onto the streets "rocking and rolling" their way through the neighborhoods. Like small colonial armies on the march, a core of musicians play all sorts of drums and percussion instruments, speak in unknown tongues, and sing and chant dressed in elaborate African-American Indian costumes. During the day, they methodically hunt down other Indian gangs-some friendly gangs, in order to show off their new suits, and some not so friendly gangs, in order to show off their strength and power-all bringing back both the warrior spirits of Africa and the kindred spirits of Native American Indian people they came to respect and love.
Although the present day Indian gangs are best known for their fabulous costumes at Carnival time, their most far reaching contribution of New Orleans is in the world of music. It was the African drumming traditions carried on within the gangs that combined with the brass marching band traditions in New Orleans which led to the development of jazz. There are still extensive connections and cross memberships between the Indian gangs and the traditional brass bands of New Orleans; many of the drummers were members of, or closely associated with the gangs. You can't find a traditional "second-line" parade or jazz funeral in New Orleans where you won't find numerous members of the Indian gangs backing up the band, gathered closely behind the drummers with percussion instruments. This is a creative combination which hasn't changed at all over the years. The beat and lyrics of the gangs have inspired the music of Jelly Roll Morton, Smiley Lewis, Sugarboy Crawford, Guitar Slim, Professor Longhair, James Booker, Mac Rebennack, Fats Domino, the Neville Brothers, and countless others. If you pick the memories of almost any black musician born and raised in New Orleans-whether jazz, rhythm & blues, rock & roll, rap or whatever-you will inevitably end up talking about the street parades, the jazz funerals, the brass marching bands, the neighborhood live music clubs, and the Mardi Gras Indian gangs. These are the "cultural wetlands," the fertile nurturing environment out of which the greater part of New Orleans music springs. Since the earliest days this environment has continued to be a watershed of rhythm and consciousness and a source of constant inspiration. As Mac Rebennack, A.K.A. Dr. John, has put it, "New Orleans music is Afro-Caribbean, Afro-Cuban, and Mardi Gras Indian."
Video Player
Excerpt, American Patchwork: Jazz Parades. Brass bands march through neighborhoods in New Orleans accompanied by impromptu solo, couple and group dancers. Directed by Alan Lomax. Produced by Vestapol Productions, 1990.
Less than 20 years ago, in 1970, several "Indian gangs" performed at the first annual New Orleans Jazz & Heritage Festival then held in Congo Square (now called Louis Armstrong Park). Since their "coming out" at the Jazz and Heritage Festival, the Mardi Gras Indians have been called upon to perform at major folk and music festivals and in music clubs all over the United States and Europe and interest and research regarding the "Indians" has increased steadily. To recount a few of these recognitions: in 1973, a Ph.D. dissertation by David Draper; 1973-1986, countless articles and two albums; 1987, two complete Mardi Gras Indians suits purchased by Ripley's Believe it or Not; Allison Tootie Montana, Chief of the Yellow Pocahontas tribe received a National Heritage Award from the National Endowment for the Arts; 1988, Rounder Records produced the first album which presented the music of the tribes in its authentic form.
As Bill Morrison commented in the Rounder Records catalog:
"In light of the tribes' importance to the history of all Afro-American music, and in light of how thoroughly most of New Orleans music has been picked over by grail-seekers looking for roots, it's astounding to realize that Lightning And Thunder, on Rounder, is the first full-length album ever of Mardi Gras Indian music recorded in its pure form and natural context-nothing but the traditional vocals and percussion, recorded in the H & R Bar, where the Golden Eagles rehearse. What we get is the most African-sounding music being made on the American continent: music, that while it has incorporated some contemporary sounds and themes, probably sounds close to the way it did in the gatherings in Congo Square in the last century. Previous Indian albums by fellow tribes the Wild Magnolias and the Wild Tchoupitoulas were recorded in the studio and with modern rhythm sections; but this record is wilder, rawer, and rocks harder. If you have any interest in the roots of black American music, or if you simply want to hear something that's a lot more primal than what gets on the radio these days, you shouldn't be without this album."
The National Geography Society completed a documentary on the Mardi Gras Indians, scheduled for release Fall 1988, which will bring even greater recognition and acclaim to this unique culture. In all, what we are witnessing now is a rare and complicated event-the "discovery" of a "submerged" culture, and the process of its dynamic re-emergence into the modern world.
For outsiders the Mardi Gras "Indians" were a major discovery; for insiders the notoriety brought confusion and a disruption of traditional folkways. A cherished activity, pursued in private for more than a century, was suddenly thrown into the public marketplace. It was a strange new era for the Indian gangs. While it brought recognition and jobs for some, it left others with little but a sense of loss. What had been a very private cultural activity-essentially a religious activity-was being made into a commercial enterprise. What happened then is almost a "textbook" case of what happens when a pure, traditional culture is "discovered" by the outside world, and the confusion and identity crisis which follows upon precipitous entry into the modern environment. How to best deal with the resulting problems is a subject now hotly debated within the community.
In recent years the role of folklorists and cultural activities has come to be how they can contribute to the empowerment of traditional folk-communities-how their expertise in research and cooperative planning can be utilized as a tool by the community for self-determination and internal development. Being outsiders, folklorists can bring a valuable worldly perspective to the community, but insiders are usually better positioned to determine the course and speed of economic development. Today the foremost concern of academic professionals in this field is to insure that traditional or isolated folk communities are properly recognized for all their spiritual and material contributions to our society, that they are not traumatized by outside authorities and economic forces, that they be well documented and studied so as to preserve their unique storehouse of information, and that they receive their fair share of the economic benefits which might derive from their art and other unique productions.
Looking to the future now, it is not difficult to envision a time, not too far away, when the unique material and expressive products of our traditional folk artists, musicians, and folk communities will be properly recognized and valued by the larger society. We are now at the end of a long, dark period in our history of racial prejudice, cultural chauvinism, segregation, and repression of "non-white" peoples and cultures. But in the modern world because of innovations in travel, communications, and education, we are witnessing the end of all that. We are also seeing the end of self-determined isolation of persecuted groups, such as the French Acadian and Spanish Isleño peoples, for example, who fled into remote wilderness areas of the Mississippi delta during the eighteenth century in order to retain their religious and cultural identities, and the Mardi Gras Indians, for example, who retreated deep into the heart of a large metropolitan city, for the same reasons.
These changes in our society bring a great opportunity to recognize the true value of ethnic diversity and traditional cultures so that we can all benefit from their collective genius and creations. To bring this about we need to encourage development of these emerging cultures according to strict principles of non-exploitation and unrestricted self determination, so that they can continue to support and enrich the lives of the people in the primary community they serve. Properly done, this could bring about a great flowering period for these fragile, underclass cultures, and for cultural diversity in general, which would greatly enrich all our lives.
Given proper recognition, and enlightened treatment by governing authorities, our folk communities with their wonderful music and public celebrations should prosper and remain an invaluable resource of recreation and inspiration for all of us, in whatever difficult times the future might bring.