ARTICLES & ESSAYS
Traditional Arts: A Window onto Northwest Louisiana's Multicultural Landscape
Other Shreveport Articles
(click to expand or collapse)
Cultural Preservation: Keeping the Flame Burning for Future Generations
Seasons and Cycles — Festivals and Rituals Mark Life's Rhythms
Of Hand and Heart: Handwork Connects Family and Community



Page 3
Latino Cultural Rhythms in Shreveport-Bossier City: Ballet Folklorico and Salsa Dance
By Laura Marcus Green
A Language of Passion and Connection: Guiel Hausen's Journey into Salsa Dancing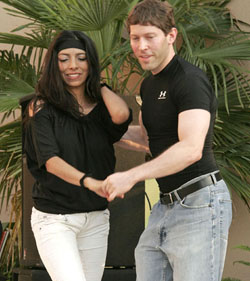 As day gave way to evening at the 2011 Cinco de Mayo Fiesta, festival goers had another treat in store when local salsa diva Guiel Hausen took the stage as part of Salsa Shreveport. Salsa Shreveport is a studio where Guiel and other seasoned dance teachers offer instruction. Guiel comes by her love of dancing naturally. Dancing and music were always around in her childhood home in La Paz, Bolivia, whether her father was showing her classic salsa moves or her grandparents were dancing a bolero or La Cueca, one of Bolivia's well-known folk dances. Music began any family occasion, including holidays, a birthdays, or Sunday gatherings. Guiel's aunts played guitar and sang beautifully. Eventually, the whole family joined in the singing and people would get up to dance to boleros, cumbias, or classic salsa. When the musicians grew weary, the radio took their place.
Music is something Guiel loves about her native culture, and something she has missed, living in the United States. She comments,
There was never any reason not to dance. Everything was an excuse to dance and to listen to music. You listen to music in the buses and the taxis and when you're walking on the streets. You have the musicians on the streets playing their guitars and singing. There's music all over-it was just there. And it's just natural for you to feel it, it's natural for you to live it.
Guiel moved to Shreveport in 1999. Raising her children in the U.S., she has tried to instill in them the love of music that she feels is an innate part of their Bolivian heritage. She reports that in her Shreveport home,
. . . there's always music playing and I always have the kids dancing because I want them to have that love for music, for art. I think it lifts up your spirit. It helps you get up with a better mood [in the morning]. When you play music, it just opens your mind to a different world, a different way to see life. So it was different [here]. But I've got to adapt, and I brought my own world here.
When Guiel arrived in Shreveport, there were few Latinos living in the Shreveport-Bossier City area. Working as a Spanish-language interpreter and census taker, she has seen firsthand the growth in the area's Latino community. Over the past five years, she has appreciated the increased availability of Latino foods and products at the stores and restaurants that have become more prevalent throughout the Shreveport-Bossier City area, as well as the advent of Spanish-language media. Aware of the diversity in the local Latino community, Guiel notes a solidarity among them, which stands in contrast to the more tightly-knit cultural enclaves she has encountered in larger U.S. cities. Although Cinco de Mayo is a Mexican holiday, for example, she feels that Shreveport's celebration is a draw for all Latinos living in the area, as it provides an opportunity for people to hear Spanish language and music and to see Latino culture being presented and appreciated.
Watching the local Latino community's steady growth, Guiel has pondered what it is about Shreveport-Bossier City and Louisiana that draws people to the area. On a practical level, there are more plentiful job opportunities in Shreveport-Bossier City than in other parts of the state. In addition to the flourishing casino and tourism scene, the area has attracted a burgeoning filmmaking business. These industries have brought Latinos from all walks of life, including construction and service workers as well as white collar professionals who see the area's potential and the need for a bi-lingual workforce. But Guiel thinks that there also are lifestyle factors that bring Latinos to this corner of the world. The calm, quiet pace of life in Shreveport-Bossier City is appealing, especially for those who are just starting out in a new country. Further, Louisiana's distinct heritage and family-oriented culture make it a place where Latinos feel more at home.
Salsa was part of Guiel's life before she moved to the U.S., along with other Latino dance traditions. It was after she settled in Shreveport, however, that she became serious about salsa technique. It all started at a surprise birthday party for Guiel, when a friend invited a salsa instructor to give lessons to the guests. Guiel danced with an American partner, whose fluidity in Latin dance moves caught her attention. He had learned to dance at the Salsa Shreveport studio. He proposed that they exchange salsa and Spanish language lessons, and soon they were practicing salsa up to 12 hours a day. Guiel remembers,
And then I got this addiction for it, and nobody could hold me back. I started taking all the workshops-in Dallas, Los Angeles, and New York. I went all over and slowly I started meeting the salsa community in the United States, I started being close to them, dancing with instructors, and learning different choreographies.
With her devotion to the art form, Guiel eventually became an instructor at Salsa Shreveport. Locally, salsa aficionados can dance at two local venues: Boomtown Casino's Sundance Cantina in Bossier City and in downtown Shreveport at El Coco Loco nightclub in Nicky's Restaurant. Ask Guiel what she loves about salsa dancing, and she'll provide multiple reasons why it is her passion. She says, "I think it's the best hobby a person can have. Dancing is an art and it just takes you away from your regular, stressful life. So it's one of the things I love the most."
Guiel believes that salsa music and dance have origins stretching back as far as the 1600s. The roots of salsa are in percussion instruments and rhythm. Today, the essential components of salsa music are timbales (percussion instruments), trumpet, piano, and a good singing voice. A singer must have stamina, as salsa songs might last for anywhere from five to twelve minutes. The majority of salsa songs have vocals. As Guiel puts it, "Salsa is a music of love." Salsa lyrics might relate happy love stories, tales of loneliness or the pain of love, and in some cases they might address social issues.
Colombia is widely considered the birthplace of salsa, while Cuban salsa is also well known as a venerable variant of the dance tradition. While stalwarts might insist that Columbia and Cuba salsa are the definitive source, Guiel is convinced that each Latin American country has always had its own version of the tradition. She believes that Africa is the ultimate source of salsa rhythm and moves, which have moved around the world. She remembers noticing this connection while watching people dance to Creole music in New Orleans. The dance moves were different, but the trumpet and timbales were there, and she sensed a kinship with salsa rhythm.
She observes that from the root form, ". . . everybody puts [in] a little of everything. The sugar comes from all over. So it's one of those things, the minute you feel it, it just goes all over your body, and everybody starts adding something else. They make it salsa cumbia, salsa reggaeton, and they mix a little of everything." At the salsa dance congresses she attends, Guiel enjoys seeing the ways younger dancers incorporate diverse dance styles into salsa. She sees it as a dynamic tradition, open to new cultural and personal interpretation.
Talking about Bolivia's traditional folk dance, La Cueca, Guiel describes it as a beautiful and romantic couples dance that tells a story. Dancers must learn the three phases of the dance, which convey flirtation, courtship, and becoming a couple. Guiel also sees salsa as a dance that relates a story, almost always of love, but with many iterations from joyful love to sadness and longing and everything in between. As a Spanish speaker, she tunes in to the lyrics of a song while she is dancing. The lyrics become part of her experience of the music and she expresses the emotion of a song through her dancing. She explains,
I'll put my whole self in it. It's like, you will see the song in my body. You don't just see me dancing, but you see me expressing what I feel with the songs. There's just so much you can do with a move. When you understand the song, it gets into your soul, so you can express it with your movements and with your facial expressions, your hands, everything.
Dancing with salsa partners from different countries over the years, Guiel has noticed that people who do not understand Spanish tune into a song's music, which might be upbeat, without understanding the song's lyrics. She remembers one occasion when she and a partner were dancing to a song about parting and heartbreak. While Guiel was dancing the song's emotion, her American partner did not understand the words to the song. She relates, "And I remember after dancing that song, my partner said, 'Oh my gosh, I feel like we broke up or something. It was so painful.' But I think it's the beauty of the dance that you can live and feel it. [You can be] so deep into it, it's like you're in a bubble."
Guiel's favorite salsa congress is held annually in New York City. For four days, salsa lovers from around the world gather for workshops that run from 8:00 am until 4:00 pm. The early evenings are devoted to competitive showcases, and then the social dancing runs from around 9:00 pm until as late (or early!) as 6:00 am the next day. Among salsa's many benefits, it provides an excellent workout. Guiel reports that the salsa congresses she attends are a great place to lose weight!
Among the highlights of the New York salsa congress are the high quality dance instructors from salsa epicenters like Puerto Rico and Miami. Guiel avidly attends the dance workshops, as she never wants to stop learning. While the instructors are predominantly Latino, participants come from countries like Japan, Australia, and Korea. Guiel delights in reuniting and dancing with her friends. While salsa is admittedly a Latino dance form, Guiel sees it as a tradition that transcends nationality and culture, creating a connection on a more fundamental level. She reflects,
Dance doesn't really care what language you speak, doesn't care where you're from, it's one thing that everybody can do. And it doesn't really matter the nationality . . . it puts us all under the same roof, under the same language, which is music. So it's an incredible connection that you can find with another human. I think it's not just for Latinos, it's for everybody. Latinos are involved with it because they have the tendency to leave their homes and move to different places for better lives. So when you hear a song that's talking in your own language, you are attracted to it. But I think it's more than that, they want to feel that connection, they want to feel no walls, no barriers. So it's something that puts everybody together, not just Latinos.
Back home in Shreveport, Guiel has also seen salsa's positive effects. She has taught Spanish language and dance in the public schools, where she helped facilitate prom dances on a few occasions, a task that was close to her heart. A civic-minded soul, Guiel is interested in finding ways to make her passion and hobby more useful to the community. She thinks that offering Latin dance instruction in the schools would be beneficial for students. Based on her own experience, she believes that dance classes are an antidote to negativity and stress among students. Learning the dances can help girls feel more secure, while giving boys a way to feel more in control and showing them that they can be leaders at something. (While salsa is open to new cultural interpretations, Guiel says that for better or worse, gender roles in the dance form remain set in stone: men always lead.) Guiel remarks, "I think it's something that will help our youth, to get them out of the streets and put them on[to] something that's fun, something that they can connect with another."
As Shreveport-Bossier City becomes more multicultural, learning Latin dance styles offer a way for non-Latino students to explore cultures other than their own, while helping the growing Latino student body feel more at home, and that their culture is valued. As she has found in the adult world, dancing has a way of breaking down cultural barriers among young people. She feels it is worth a try to offer the same opportunities to young people. As she sees it, "Maybe that will help them in terms of learning another language, or helping another person who's not from their country. Maybe it can help them connect with another human being that doesn't look like you, doesn't speak like you, has a heavy accent, but you two can dance together and make it fun."