VIRTUAL BOOKS



"Don't Give up Your Day Job": Country Music
By Terry A. Seelinger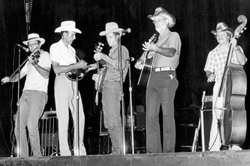 The contrast in settlement patterns between the western and eastern parts of the Florida Parishes is reflected in the music that developed in those areas. In the west, as plantation life became established, settlers from Virginia and the Carolinas brought with them the genteel, parlor-style music to which they were accustomed. In addition, communication by river with New Orleans kept a steady supply of sophisticated, urban-style music flowing into the area.
The eastern parishes of this region were generally settled later than those in the west. The immigrants were mostly yeoman farmers and peasants who filtered down from Alabama, Mississippi, and the other southern states. That trend continued in some ways into this century. The people who settled on small farms in St. Tammany, Washington, and Tangipahoa Parishes had only limited time for amusements. The harshness of eking out an existence afforded them rare opportunities to enjoy entertainment. For these people, the church played a central role as a religious and social institution. In fact, the first Baptist church in Louisiana was the Half Moon Baptist Church, established in Washington Parish in 1812.
The present-day situation in many ways still reflects the regional differences in the Florida Parishes, although the presence of a large urban center like Baton Rouge distorts the picture somewhat. Also, today's mass-media dominated and generally homogenized popular culture makes it difficult to define indigenous music. The eastern parishes support at least two semiannual bluegrass festivals, near Folsom and Bush, as well as the Hayloft, a family-style barn dance, in Bogalusa. The Old South Jamboree can be considered a transplant from the eastern parishes, since its direct antecedent, the now defunct South Louisiana Hayride, originated in Ponchatoula. The Jamboree thrived for many years in the Anglo stronghold of Walker/Denham Springs, catering to that area's population as well as country music fans from Baton Rouge.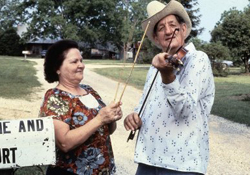 The western sections of the Florida Parishes still support popular and sophisticated musical styles, but for slightly different reasons. In present times, only a relatively large college town like Baton Rouge can support a symphony and other classical music. In addition, the population of the capital city has broad enough tastes to support such other styles as Cajun, zydeco, jazz, and rock.
As the predominant industry, logging contributed a good share to the music of the region. Indeed, if our informant Curt Blackwell is any indication, the people of this industry worked long and hard and played the same way, often with all-night or two-day frolics after some project had been completed. (Another interesting point Curt made regarded the liquid refreshment at these affairs. If they put the corn liquor out and told everybody to help themselves, it would last all night, but if they kept it hidden in the bushes or saddlebags it would only last an hour or two.) One of Curt Blackwell's favorite songs, "Mississippi Sawyer Man," takes the viewpoint of a man looking for logging work. It is apparent from conversations with all informants that musical entertainment for relaxation was important to the people in this industry.
One can also view the social context of Florida Parishes folk music in terms of domestic and assembly traditions. As the term implies, the domestic tradition developed around the home and was conducted in small groups, usually the family. The assembly tradition concerns gatherings of people and public performances of music.
The assembly tradition in the Florida Parishes is much more evident and therefore easier to study. From religious gatherings to political rallies, and from singing conventions to frolics and dances, music in the assembly tradition has always permeated our culture. Today's gospel-sings, bluegrass festivals, barn-dance-style jamborees, and honky-tonks attest to the ongoing strength of the music.
The folk music of the Florida Parishes is no more or less indigenous than the music of any similar region in the South. Every style that is found has been brought here from somewhere else, and has prospered or languished in response to national or regional trends. Old-time fiddle music is preserved and appreciated by a small, but staunch, group of people. Bluegrass music, a latter day permutation of old-time music, also has a small, but ardent, following. Camp meetings and singing conventions of the 19th century are strikingly similar to today's bluegrass festivals. (Substitute wagons and horses for motor homes and pickup trucks, and it is virtually the same folks who frequent these events.) The modern, commercial variations of the original folk music of the Florida Parishes are far removed from the roots. The cultural gap between mainstream country-pop and the folk music preserved in small backwater communities is indicated by the differences in attendance. Today's "folk" music has been coopted by the popular culture of America, and the folk sounds of the past are a quaint reminder of the not-so-good old days.
The country musicians interviewed and listened to in this survey symbolize the soul of the Florida Parishes. They are a strongly religious group, fundamentalist in style, and have firm beliefs in their music. Three of these people were born outside of the region and, therefore, brought their music with them, much like the settlers that preceded them. The others are natives who have either lived here all of their lives or returned from living outside of the region.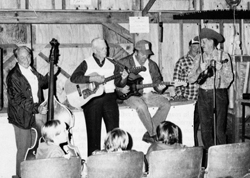 The first to be discussed and one of the major figures interviewed is Hank Jones, insurance man, musician, and country music promoter. He plays rhythm guitar and accordion. There is a saying that musicians hear when they contemplate trying to make a living playing music: "Don't give up your day job." After being in music for many years, Hank Jones finally took a day job, but has always kept his hand in the world of country music. Retired from his successful insurance business, he managed the Old South Jamboree in Walker until its demise and plays music occasionally for informal gatherings.
When Hank Jones was growing up in North Dakota and Indiana, he typified many aspiring young musicians. He became interested in hillbilly music by listening to the National Barn Dance on radio station WLS in Chicago and started playing guitar and mandolin as a teenager. After high school, he gained experience by performing in a series of tent shows and traveling amusements from the Rio Grande Valley of Texas to Idaho and Kentucky. He finally landed in Baton Rouge, where he lived until he was drafted into the army during World War II. Until 1942, he played with a hillbilly group that performed daily on the capital city's only radio station, WJBO, on a show sponsored by Tiger Brand Fertilizers. The group also played at schools and theaters within a 100-mile radius of Baton Rouge.
After World War II, Hank Jones returned to this region and tried his hand in the auto parts business until the shortage of parts caused by the war forced him to sell out and go back to the country music circuit in the West. In the late 1940s, he finally settled in Hammond and started an insurance business with a friend. Country music became his hobby. For five years in the mid-1960s, he managed the South Louisiana Hayride in Ponchatoula, and in 1968 he co-founded the Old South Jamboree.
Hank Jones remains solidly rooted in country music and admits that much of what passes for country these days leaves him cold. Asked for his definition of "country" music he says that it needs to have a solid 2/4 or 3/4 beat, "where you can distinguish it." Also, he believes that country means story songs, railroad songs, or tunes about accidents. Although the trend these days is toward "somebody done me wrong" songs, he concedes that there were some bloody stories in the old songs as well. He favors singers like Loretta Lynn, Ernest Tubb, and Eddy Arnold. He plays a solid rhythm guitar and sings, and can pull on the accordion when there is a call for it.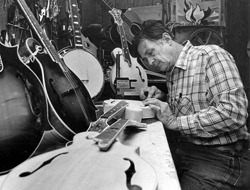 Another musician interviewed might be called "Mr. Mellow." This is Luke Thompson, a mandolin master who both plays and builds these musical instruments. If someone needs repair work done on their instrument, he can take care of it, for he is an instrument builder and repair man par excellence.
Luke Thompson's first experience with music came in classic folk fashion. He remembers being two or three years old, "crawling around on the floor," and listening to his grandfather play the fiddle. Thompson's ancestors came from Virginia to settle in the Florida Parishes. Luke remembers that his grandfather would play at square dances and other parties. Sometimes, after playing all night, the old man would get home "just in time to hook the mule up to the plow." As he was growing up, Luke heard most of the music that he learned on the radio. Later, in the 1950s and 1960s, he played professionally in this region and around the country. In 1968, with Bill Monroe's assistance, he started "Luke Thompson's Bluegrass Festival," the first in Louisiana.
Luke is another musician who followed a variation of "don't give up your day job." He generally only played for pay when he had no regular job. Even today, he claims that if he wanted to make a living playing music he would have to leave Louisiana. Experience has taught him that the people of this state prefer popular music to less commercial forms like bluegrass or old-time music.
These days Luke works as a boiler maker or carpenter and puts in as much time as he can find for mandolin making and playing. He says that he intends to go into instrument repair as soon as he can work out the details. Each year he makes a superb mandolin that is part of the prize given to the winner of the Buck White World Championship Mandolin Competition at the Kerrville (Texas) Folk Festival. He also gets calls and letters from people across the United States, and even overseas, inquiring about his mandolins.
Luke Thompson says that he used to copy Bill Monroe's style of mandolin picking. At some point he decided that was useless, so he developed his own style to sound more unique. During his interview he demonstrated at least five different styles of playing the mandolin.
"On fiddle (and any of six other instruments you might ask him to play), a Grand Champion Fiddler for the State of Louisiana. . . ." Chuck Nation will knock your socks off. On a dare from his father, he entered the 1984 Louisiana State Fiddlers' Championship and proceeded to fiddle everyone else under the table to earn the $500 winner's purse. A self-taught musician, Nation also plays guitar, mandolin, banjo, bass, autoharp, and viola, in addition to singing.
Born in LaFayette, Georgia, Chuck Nation is an import to the Florida Parishes. He began playing bluegrass and gospel music at the age of sixteen. He claims he was "brainwashed by my Dad from childhood," grew up with bluegrass and old-time music, and "developed a great appreciation for it and the artists who play it."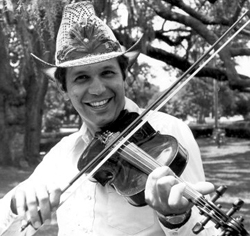 In addition to music, Nation follows a variety of vocations. He is an ordained Baptist minister and, when he has a day job, he carpenters. When he won the State Fiddlers' Championship he was unemployed, so the prize money was no doubt a relief. Nation also gives instruction to more than a dozen students in fiddle, banjo, guitar, and mandolin playing. The musical group he plays with call themselves the Deep River Boys, and their reputation is growing in the region.
"On bass fiddle, a rainy-day refugee at a Bluegrass Festival, with the sweetest smile you have ever seen. . . ." That's a description of Linda Sweet of Covington. She performed at Luke Thompson's Bluegrass Festival in early April 1984 to a sparse crowd because of the all-day rain. The show that afternoon was an abbreviated one, and the only local talent that appeared was an informal group. Within that modest ensemble sparkled a gem of a bass player, Linda Sweet. She laid down a solid bass beat for a band that included the inestimable of the host picker himself, Luke Thompson.
Although not a talkative informant, she was able to tell us a little about herself. Sweet is another transplant to this region, from Abilene, Texas. Her introduction to music was simple, in the family setting, and she claims that she has always loved country music. Linda Sweet surely cannot give up her day job for there is not much call for a slap-bass player these days.
A husband and wife team interviewed are Curt and Irene Blackwell. They team up to carry on the old Anglo tradition of "beating the straws." Curt plays the fiddle, and Irene raps out a rhythm on the strings with her fiddlesticks. This musical method is a hold over from the days when the fiddle was almost the only instrument played because it was small, very portable, and readily available. Using fiddlesticks created some rhythm and a little variety to the music. The sound of the fiddlesticks rapping on the strings creates the effect of the drone strings on a strummed dulcimer. Irene cuts her own less-than-pencil thin sticks from strands of young broom straw growing on their property.
The Blackwell repertoire is a basic selection of old-time fiddle tunes with additions like Curt's version of "Mississippi Sawyer Man." Curt's musical style can best be described as idiosyncratic, for it is unique. He plays with his bow loosely strung, thumps his foot for rhythm and tends to be rather imprecise in hitting his notes. He usually sings in falsetto and sometimes slides into a normal voice, again simply a unique style.
Louise Edwards blows the harmonica for her guest appearances on country music programs. Born in Ponchatoula, she has lived there for most of her life. She said that both of her parents played music, and that when she was young she just picked up one of her father's harmonicas and learned to play "Home Sweet Home." She has kept up her playing ever since then and now plays music with her sons, who live nearby and provide a great deal of moral support. Mrs. Edwards is occasionally asked to play at church functions or gatherings of senior citizens so she tries to keep in practice. When she gave a short performance in her living room, it sounded like she was able to stay in practice quite well.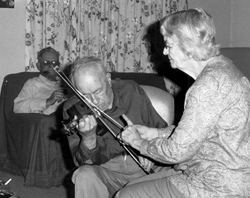 Two other musicians who were interviewed include Dewey Williams and Charlie Watts. Dewey Williams of Bogalusa is ninety years old and has lived in the same part of Washington Parish for his entire life. He received his first fiddle and some instruction from a mule-riding rural mailman, and then two uncles taught him more about fiddling. His uncles showed him how to play "cross-chorded," an open tuning which gives the notes of a certain chord when the strings are bowed. When Mr. Williams's children were growing up, they all learned to play a different instrument, though they apparently never formed a family band. These days Dewey Williams plays for occasional church and senior citizen groups and is always happy to talk to visitors about his fiddling.
Charlie Watts was a retired logger at the time he was interviewed. Born in 1892, he had lived in and around Livingston his entire life. He played the fiddle as a hobby ever since 1906, when he learned to play by listening to some older people and family members around his home. A widower who lived alone near the house of one of his sons, he was a senior citizen who played two or three times per month, mostly for gatherings of his fellow seniors. He is now deceased.
Watts did relate a poignant story during his interview, one that might have typified the plight of many rural folks in the early 1940s. One of his sons was drafted into the army and left to fight in World War II. The boy played guitar, so before he departed, father and son sat down to make some music, and the last song they played was "Farther Along." As happened far too much in those days, the young soldier never returned from the war and that song was the final memory Charlie Watts had of his lost son.
This project has located a number of musicians who are, or were, in various ways carriers of folk traditions. They all basically learned to play music, or were encouraged to do so, by hearing and emulating the older musicians around them. They also believe strongly in the preservation of the old-time sounds which carry so much meaning for them. Such beliefs are, to some degree, nostalgia for what they perceive as good times long past, but there is more to it than just fond memories. Most of these people share a distrust and dislike for the way that popular culture has watered down country music and made it just so much "cross-over" music. They believe that the best country music was written and performed long ago and the only things worth preserving are the old sounds. To be sure, everyone's perceptions and tastes are distorted by the influence of time and popular culture. Jimmie Rodgers' music certainly sounds "old" to most of us, but it was the popular music of its day. Since that time, the commercial demands of demographic statistics have dictated strict categories of music aimed at certain segments of the radio-listening and record-buying public. Eddy Arnold or Ernest Tubb might sound ancient to some of today's youth. In this case, the beauty of folk music is very much in the ear of the listener.
Bibliography and Archival Resources
Blackwell, Curt. Enon. Interview by Terry Seelinger, 1982.
Butler, L. "West Feliciana, A Glimpse of Its History." Louisiana Historical Quarterly, 17 (1924):90-120.
Cohen, N., and Cohen, A. "Folk Music and Hillbilly Music: Further Thoughts on Their Relation." John Edwards Memorial Foundation Quarterly, 13 (1977):50-57.
Gardner, J. "Catfish and Country Music, Hayloft Style." Louisiana Life, Jan/Feb (1982): 107.
Hicks, Dean. Covington. Interview by Terry Seelinger, 1984.
Jones, Hank. Baptist. Interview by Terry Seelinger, 1984.
Nation, Chuck. Denham Springs. Interview by Terry Seelinger, 1984.
Northup, S. Twelve Years a Slave. Edited by S. Eakin and J. Logsdon. Baton Rouge: Louisiana State University Press, 1857.
Price, R. B. "A History of Music in Northern Louisiana Unit 1900." D.M.A. dissertation, Catholic University of America, Washington, D.C., 1977.
Skipwith, H. E. Feliciana Past and Present - Sketches of the Pioneers. New Orleans: Hopkins Printing Co., 1892.
Thompson, Luke. Baton Rouge: Interview by Terry Seelinger, 1984.
Tucker, S. R. "A History of Louisiana Country Music." Baton Rouge: Office of State Parks, 1982.
Watts, Charlie. Livingston. Interview by Terry Seelinger, 1984.
Wilgus, D. K. British American Folksong Scholarship Since 1898. New Brunswick: Rutgers University Press, 1959.
Williams, Dewey. Bogalusa. Interview by Terry Seelinger, 1984.