VIRTUAL BOOKS


More Than Just a Trade: Master Craftsmen of the Building Arts

Table of Contents
(click to expand or collapse)

John Hartsock (Architectural Lathe and Mill Worker)
My last name, Hartsock, is German originally. My grandfather's parents settled in that Pennsylvania Dutch area. . . . Pennsylvania Dutch was actually "Dutch," not from the Netherlands, but from the German Deutch. Just like our Deutches Haus [German cultural center] here in New Orleans.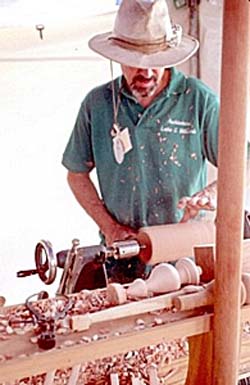 There's a fellow by the name of Floyd Rodriguez. Floyd is probably without a doubt the finest turner that was in this city, even through my time. I suppose I could keep up with Floyd now, but at the time Floyd was it. He has died since. [When I was first in business] he was very kind about advice; I have to give him credit for steering me in the right direction. He told me, on occasion, "Now, you've got to turn it this way, this is what you're looking for," in terms of curls of wood, shapes, design, speeds of turning, etc., etc. It's not that I got a lot of tutorial from him, but a few times I would go to Mr. Rodriguez—you know, show him what I was doing, explain what the problem was I was having, and he could tell me, "Well, you might try doing this." . . . I read a couple of books, but frankly it's just getting in there and slugging away, you know—earning what feels good, what pulls its ship of the wood while it's turning, just the practical stuff that the only way you learn it is to stay focused, stay interested and do it, apply yourself.
I learned how to do columns, learned how to flute columns. Make reproductions. I've gone and started doing twist-turning with the assistance of an ornamental mill. I put together an automatic lathe that will crank out one design so I can supply a decent neoclassical spindle that will fit a variety of homes and not have to charge, you know, the exorbitant hand-turning fees. Right now a hand-turned spindle costs $22, depending on the quantity, but you can sell a machine-turned spindle for $15, $16, depending again on the quantity. And that's a pretty good price. So I got that program done. So now, at this point, I either take on something really strange and really interesting, or I try to do a lot of volume. And I'm a little leery of doing a lot of volume 'cause I know at this point I'm not prepared to handle the kind of paperwork that needs to be done. I just hate it with a passion.
Water goes through paint, too. It goes in and it goes out, but it goes in and collects. And so it will reach the same level of humidity that we have eventually. It warms up. It's nice and cool in the evening, and then the sun warms it and that water condenses to that side of the post, and then it falls down and it goes down to the bottom and it sits there, and it doesn't dry out. And that's when wood mold sets in, and it'll eat a column from the inside out. You just don't know what happened to you. That's what keeps me busy.
There's always going to be room for somebody like me to continue to make this stuff. I mean the money is okay. . . . Most all the people who [hire me] are happy they can find a craftsman who can take care of it. So you're appreciated on that front. It's nice to be part of keeping the architectural fabric together. . . . It really has turned out to be an interesting journey. I've met a lot of nice people, lot of nice builders, architects. I've seen some very interesting homes. I've worked on some very interesting pieces of furniture. I've saved a lot of people's tails when they were in a bind and they saved me too, so it's been a lot of fun. So that's good. That's a nice part to this profession.