ARTICLES & ESSAYS
Traditional Arts: A Window onto Northwest Louisiana's Multicultural Landscape
Other Shreveport Articles
(click to expand or collapse)
Cultural Preservation: Keeping the Flame Burning for Future Generations
Seasons and Cycles — Festivals and Rituals Mark Life's Rhythms
Of Hand and Heart: Handwork Connects Family and Community



Shreveport's Indian Community: Three Organizations, Shared Visions, Treasured Cultural Traditions
By Laura Marcus Green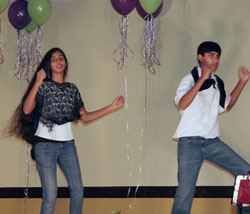 Shreveport-Bossier City's Indian community began taking root in the 1970s. Today, approximately 250 Indian families live in the area. Most adults in the community were born and raised in India. Many in this first generation are medical doctors, while a small percentage work in the hospitality industry. Most Indian youth living in Shreveport-Bossier City were born in the U.S., or left India when they were very young. Over time, three separate Indian cultural entities have taken shape in the area, each serving specific needs and offering particular resources to the community. Their memberships or participants overlap. Drawing on each of their missions and resources, these organizations occasionally collaborate on programs and activities.
The Indian Association of Shreveport & Bossier City (IAS) "seeks to preserve, promote, and celebrate the multi-cultural aspect of India." The association has been active in the Shreveport-Bossier City area since 1979. The IAS' annual calendar of activities includes Indian Independence Day in August, the Hindu festival Divali in November, Republic Day in January, and the Hindu celebration Holi in the spring, as well as a summer picnic and winter holiday celebration.1
The 2011 IAS Indian Independence Day celebration featured dance and musical performances by youth. Children and teens performed lively Bollywood dances and sang traditional songs commemorating India's independence. Highlighting India's diverse heritage, a group of children dressed in traditional regional outfits paid a moving tribute to their families' home states with a song in which each performer sang a verse about a particular culture. IAS Vice President Manish Dhawan took a turn at the microphone, singing several songs by a favorite Indian composer. The evening included performances by Kuchipudi and Indian Classical dancer Sapna Dennis, who was visiting from India as an artist in residence in Alexandria.
Performances at the IAS 2011 Indian Independence Day celebration.
The annual Indian Independence Day celebration and other events on the IAS calendar provide young people an opportunity to share with their community the cultural traditions they learn throughout the year. Since 2006, Mini Menon has taught Bharatanatyam dance to students ranging in age from seven to fifteen. Dating from 1000 BC, Bharatanatyam is an Indian classical dance form from the southern Indian state of Tamil Nadu. The tradition has roots in Hindu temple dances.
For Mini Menon, Bharatanatyam is a family tradition. Her mother, Indira, grew up in Chennai, Tamil Nadu, the birthplace of this dance form. Mini's mother graduated from her Bharatanatyam training at the age of 15. During her childhood, Mini's family lived in Rajasthan for ten years before emigrating to the United States in 1981. From age 14 to 24, she studied Bharatanatyam dance at a Hindu temple in Flushing, New York. By the end of her ten-year course of study, Mini had become an instructor in her own right, assisting Bharatanatyam teachers at the temple.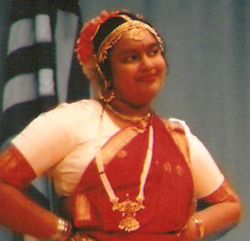 As a grown woman with her own family, Mini settled in Shreveport in 2002. Shortly after her arrival, community members, especially mothers from southern India, approached her about teaching their daughters Bharatanatyam. Mini's older daughter was among the first class of students to study Bharatanatyam in Shreveport. Mini relates that it takes years to master Bharatanatyam dance. Traditionally, girls begin their training around the age of five. The first year is difficult, consisting of learning the steps, without music. Not everyone makes it past this challenging first phase of instruction. In Bharatanatyam, dancers use every part of their bodies to express emotions. Today, as Bollywood dance has become increasingly popular, a foundation in Bharatanatyam gives dancers a solid foundation because it trains students to focus on the beat. Mini's students add beauty and meaning to Indian cultural events. Their performances are also a special feature at community-wide celebrations like the ASEANA Spring Festival.
The India Studies Program at Louisiana State University-Shreveport (LSUS) was established in 1995 with funds raised by the Indian community; these funds were supplemented by the state. The program's mission is "to disseminate knowledge and understanding of India to LSUS students and faculty, as well as the community at large." The program supports an endowed professorship, as well as diverse educational and cultural activities through which the LSUS and general public can experience India's richly varied cultural expressions, from traditional music and dance to more contemporary art forms like Bollywood films. An annual India Night brings high quality Indian cultural presentations to the community, while helping to raise funds for the India Studies Program.