ARTICLES & ESSAYS
Traditional Arts: A Window onto Northwest Louisiana's Multicultural Landscape
Other Shreveport Articles
(click to expand or collapse)
Cultural Preservation: Keeping the Flame Burning for Future Generations
Seasons and Cycles — Festivals and Rituals Mark Life's Rhythms
Of Hand and Heart: Handwork Connects Family and Community



Palestinian and Mexican Handwork Traditions in Shreveport
By Laura Marcus Green
Cross Stitch in a Cross Cultural Life: Hanieh Salama
Hanieh Salama was born 1962 on the West Bank, in Palestine. In 1967, her family left their home in Deir Jarir, an agricultural village near Ramallah, and immigrated to Amman, Jordan, where they lived until 1977. After living in Jordan for ten years, the family moved to the U.S., where Hanieh lived first in New York and then in Florida, before settling in Shreveport in 1995. Hanieh was around nine years old when her mother and aunt began teaching her to do cross-stitch embroidery. At that time, all girls learned cross stitch, so they would be able to make their own dresses for everyday wear. Hanieh remembers,
They gave me a piece of material. And they gave me something very simple to do. It's like when you give your son or your daughter a scrap of paper to learn how to write his name or the first letter. It's the same, you know. So, I start doing it. It was difficult and the piece of material got so wrinkled. It was hard at the beginning. I didn't know where to put the needle and from where to take it out. But then I got used to it . . . and then after that, they started giving me very simple [projects], like okay, do this square. So I did the square. And then [they] added another thing to it, and then started building. With practice, you get better and better.
When Hanieh was learning cross stitch, most women wore their traditional dresses every day. The majority of women did not work outside the home at that time, so they did embroidery during the day. Hanieh remembers her mother sewing all the time. Handmade dresses cycled through seasons of wear. Hanieh explains,
Women used to wear them every day, as an everyday dress. And to wear them as everyday clothes, they get into bad shape. Then you have to continue every year, do two or three dresses new, in order to wear them year-round. You have three dresses this year, maybe next year you do another three. So you'll be using the old ones for the house, for working, for shopping, and then the other three, when you go out. And then maybe the next year you do another three in a different color, or the flower is a different design.
For inspiration, women looked at books or other cross stitch pieces as for designs. In those days, many of the patterns were named for birds or flowers or other recognizable forms. Women embroidered in the colors that were traditional to their home village. Hanieh remembers that when you saw someone dancing at a wedding you could tell where she was from by her dress. "We are all in Palestine, we all wear cross stitch. Now, we use all colors. But before, each village, they use different colors. So every time you see a woman with a lot of colors in her dress, you know that this lady is from this place. And the other villages, they use certain colors. But now, we all use different colors. So you can't tell now, who's who."
When Hanieh was learning to do cross-stitch embroidery as a little girl, she assumed that she would be making her own dresses for everyday use, just as her mother and grandmother had done. But as young Palestinian women began seeking college degrees and working outside the home, they started wearing ready-made clothing. Between 1977, when Hanieh's family immigrated to the United States, and 1995, when she returned to Palestine for her children's cultural education, she noticed that everything had changed. The cross-stitch dresses women once wore for both work and special occasions were donned only a few times a year for weddings or other celebrations. Further, many women no longer make their own dresses. They either hire someone else to make them or buy machine-made garments.
Hanieh estimates that at least 50% of women living in Palestine today work outside the home. Since they no longer have time to make their own cross stitch dresses they might buy handmade dress that was sewn and embroidered by someone else. Handmade dresses can run anywhere from $500 to $1,500 U.S. currency, depending on the amount of stitching on the dress. For those on a budget, there are machine-embroidered dresses.
Hanieh relates that there is a certain amount of rivalry among cross-stitch embroiderers to make increasingly elaborate designs and cover more of the cloth with stitches. She points out that most women would not want to wear the same dress to every wedding, and it is a shame to invest a lot of money in a dress that might only be worn two or three times and then hung in a closet. She feels that perhaps the better economy is to buy an inexpensive dress and not worry about it. In Palestine, this scenario has given rise to businesses that buy people's old dresses for a fraction of their original value and then recycle the fabric into smaller items like pillows and purses, at a profit. The current situation has also provided women with no other means of support a way to earn a livelihood by sewing clothing and household items for others.
Palestinian women who continue to do cross-stitch embroidery often make smaller items for decorating their homes, like pillow covers or table runners, and accessories like purses or cell phone and glasses cases. Making the smaller items provides traditional artists with a relaxing pastime through which they can beautify their homes, make gifts for others, and stay connected to their cultural roots. Although Hanieh has adapted to the modern way of doing things, she still does cross-stitch in her free time, making items for her home.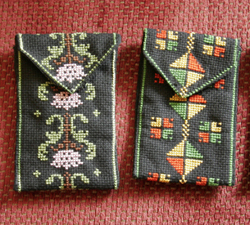 Hanieh also continues to participate in a network of exchange through which women keep cross-stitch a vital part of their lives. Part of the cross-stitch tradition is for friends to exchange work with one another. When a woman is getting married, her friends might make something for the bride by which to remember them. Friends also help each other out when they get into a pinch for time. Hanieh says,
If I have a friend that she's making a dress, maybe her son is getting married, her brother is getting married, and she's in a rush, she wants to finish it? I always take one piece and help her with it. I don't like to get paid. Some time I have a friend of mine that when I did my dress, my brother was going to get married and I was in a rush to do it, so she took pieces and she helped me with it. We trade, like you do five for me, I do five for you, instead of paying each other money, you know, for close friends.
From 1995 to 2004, Hanieh lived in Palestine with her four sons, so that they would "learn how to read and write my language and know our culture and rules. And then I brought them back here [to Shreveport], to get their education." She is currently living in Palestine with her 12-year-old daughter, Ashjan, during the school year, and returning to Shreveport during the summers. Now, if her children go back to Palestine on their own, they will be self-sufficient. If they knew only English language and American culture, it would be very difficult for them to travel from one place to the other. Hanieh believes that every culture has its own rules. She has worked hard to instill her children with an understanding of her home culture and her adopted culture.
So if they sit with American people, they respect the rules. If they sit with Muslim people, they know the rules for Muslim people. So now, if we go to a wedding, they know how to dance, they know how to do things. They know how to welcome people. And if somebody dies, they know how to stand with other people, what to do, what to say. You have to teach them.
Hanieh has weathered prolonged separation from her homeland and navigated the difficulties and dangers of living in a country in conflict. She has seen massive changes in the culture and society in which she was raised. Looking back and looking ahead, she reflects "We are different from our mothers and from our daughters." Regarding traditional culture, our mothers know more than we do, and we know more than our daughters. Our children are losing what is in the past." Ashjan, Hanieh's daughter, has asked her mother to teach her cross stitch. Perhaps she notices her mother's enjoyment of her handwork, or she wants to create her own hand-stitched items, large or small. Whatever the case, she will carry forward a time-honored family and cultural tradition.