ARTICLES & ESSAYS
Traditional Arts: A Window onto Northwest Louisiana's Multicultural Landscape
Other Shreveport Articles
(click to expand or collapse)
Cultural Preservation: Keeping the Flame Burning for Future Generations
Seasons and Cycles — Festivals and Rituals Mark Life's Rhythms
Of Hand and Heart: Handwork Connects Family and Community



Page 1
Latino Cultural Rhythms in Shreveport-Bossier City: Ballet Folklorico and Salsa Dance
By Laura Marcus Green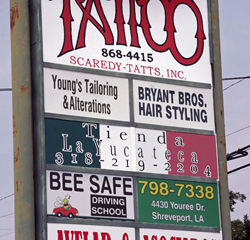 The Latino or Hispanic community appears to be Shreveport-Bossier City's largest, fastest-growing, and most visible immigrant population area. Census data reveals that Shreveport's Latino/Hispanic community grew from 1.55% to 2.5% of the total population between 2010 and 2011. In 2010, Bossier City's Latino/Hispanic community was 3.95% of the total population. "Latino" is an all-inclusive term implying cultural origins in Latin America. Being Latino and having Spanish as a native language may give people sense of shared identity, especially in a new country. Yet Shreveport-Bossier City's Latino community is diverse, hailing from numerous countries of origin, including Mexico, Honduras, Guatemala, El Salvador, Nicaragua, Colombia, Puerto Rico, the Dominican Republic, Bolivia, Uruguay, and Argentina. Further, even under the umbrella of national identity, state, regional or ethnic differences make for distinct languages and traditional foods, dress, and the observance of holidays, among other customs.
Census data notwithstanding, a person does not need to look far to notice the growing Latino presence in Shreveport-Bossier City. Latino businesses are springing up on both sides of the Red River. Those interested in tasting Mexican fare can choose among regional specialties, such as mariscos, or seafood, from the Veracruz region or tacos prepared in the Michoacan tradition. Latino markets or tiendas located throughout the Shreveport-Bossier City area offer food staples, clothing and piñatas for special occasions, saints' candles, international telephone cards, envios—through which people can wire money to their home countries, and more. In Bossier City Latino shoppers can find familiar foods at El Novillo Carniceria (butcher), and at El Novillo Tortilleria & Panaderia (tortilla shop and bakery).
A 2011 directory of Shreveport-Bossier City Hispanic Community Points of Contact contains 26 listings, including restaurants and nightclubs, clothing stores, legal services, churches, and a host of other organizations and businesses. The recently formed Hispanic Business Council is an arm of the Greater Shreveport Chamber of Commerce, established to "stimulate growth of Hispanic-owned businesses by improving the business skills and knowledge of present and future business owners through education and assistance, and serve as an information source and network base in promoting and seeking private and public sector business opportunities." The local monthly magazine Vita Latina and radio station La Invasora 92.1 FM, as well as the bi-monthly regional newspaper El Indepiendente, provide much-needed communication channels and access to resources for the growing Latino community. Another signpost of the Latino presence in the area is the recent addition of Hispanic components to the Louisiana State Fair, which takes place each fall in Shreveport. In 2010, the Fair's entertainment schedule included "A Taste of Mexico." In 2011, this trend continued with a Hispanic Heritage Day, as well as a separate Gran Jaripeo Baile, or rodeo including musical and dance components.
El Cinco de Mayo (the Fifth of May) commemorates the victory of Mexican forces over French invaders in the city of Puebla on May 5, 1862. In Mexico, Cinco de Mayo is primarily celebrated in the state of Puebla and in the Distrito Federal, or Federal District. Interestingly, whereas Cinco de Mayo is more of a regional celebration in Mexico, in the United States and other places where there is a significant Mexican diaspora, it has become very popular. While Cinco de Mayo marks a Mexican military victory in a particular region, Mexican Independence Day is celebrated on September 16th (in Mexico and abroad) and is commonly known as Día de la Independencia (Independence Day) or El Dies-y-Seis (The 16th). Cinco de Mayo's popularity and patriotic themes have led some to believe incorrectly that it is Mexico's independence day. Nonetheless, where it is celebrated in the U.S. Cinco de Mayo is a meaningful tribute to Mexican heritage, both for the community itself and for the general public. In some cases, members of other Latino communities may become involved in the event, broadening the celebration's scope to include additional cultures and traditions.
(1) Tienda la Yucateca in Shreveport; (2-4) Scenes from the 2011 Cinco de Mayo Fiesta.
The Shreveport-Bossier City Cinco de Mayo Fiesta was initially organized under the auspices of the local chapter of the League of United Latin American Citizens (LULAC), a national organization whose primary focus is providing educational opportunities for Latinos. A few years into its existence, the Shreveport-Bossier City Cinco de Mayo committee formed an independent non-profit organization charged with putting on the event while maintaining the broader goals of promoting higher education, enhancing cultural awareness, and increasing community involvement throughout northwest Louisiana. Cinco de Mayo and LULAC have retained their close affiliation. Various Cinco activities are fundraisers for an academic scholarship program benefiting individuals of Hispanic descent living in the state of Louisiana. The Cinco de Mayo Fiesta organization also engages in a variety of other ventures in Northwest Louisiana, including civic events, speaking engagements, and local public school visibility activities.