PAST AND CURRENT PROJECTS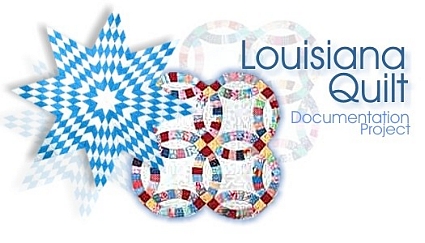 How To Do Your Own Quilt Documentation Clinic
By Susan Roach

Many communities and organizations interested in surveying quilts in their area may wish to conduct their own quilt documentation clinics. Although it requires planning and preparation, it can be done with the help of people knowledgeable about quilts. It takes time to properly document each quilt, so limiting the number of quilts brought by each owner/quilter may be necessary. It is helpful to make documentation forms available ahead of the date so that owners can get the background information on the quiltmaker. The following procedures, equipment, and materials will help to set up a documentation:
1. Obtain host or site.

Work with the host museum or cultural center to determine whether they have enough space for a quilt clinic and are willing to host it. The time will depend on the operating hours of the host; generally, for a full day, 10 a.m.to 4 p.m. will work for most sites.
2. Contact Quilt Owners and Quiltmakers.

Working with the host, develop a publicity plan, including a press release and flyers. Models are available upon request. Personally call or mail quilters, LSU home extension service, relevant clubs, and other interested groups. Work with the host to distribute flyers in quilt shops and community centers.
3. Equipment & Set Up

For one documentation team, the following items are needed. For more than one team working, you will need additional cameras, photo frame, etc. Set up takes about 30 minutes or longer.
Photo rack (or other means) for hanging quilts and backdrop for rack: Place at end of room without backlighting. It is best if it is not close to fluorescent lights (better to turn them off if possible, but the flash will compensate). (A photography frame is available for loan.)
Measuring tapes (metal or stabilized cloth) longer than 100 inches is best.
2 Camera tripods and 2 cameras: Digital (high resolution) with flash (or studio lights) are ideal. Position 10-12 feet from rack. Two cameras are recommended to get a backup shot of each quilt. Digitization of color photos can easily be reproduced in black and white, so there is no need to shoot black and white film.
Tables for completing forms and displaying books and other handouts.
Pens for quilt forms (The quilt owners will fill out the forms with assistance.)
Handouts on quilt care (available on request), quilting books for browsing.
Chairs: At least 6 at tables for quilt owners.
Louisiana Quilt Documentation Forms: The number of documentation forms depends on the number of quilters that show up. At some sites, as many as 75 quilters have shown up with 100 quilts! Place copies of the form prominently for quilters' arrival. Numbers can be clipped to each form, or kept by the photo rack to be entered on the form as the quilts are photographed.
Numbers: Make a set of numbers ahead of time to identify the quilt form with its photograph. Numbers handwritten on 3" x 5" index cards or printed this size will work best and are large enough to show in the photograph. If you want to submit your data for the online database, contact our office to have numbers assigned. With a straight pin, put a new docunmentation number under bottom left of each quilt. BE SURE that number is also on Quilt Documentation form (upper right hand corner).
Audio recorder (external microphones are best): This can be a great opportunity to interview some of the quilters, but you'll need extra people to do this. For interviewing tips, see Documenting Quiltmaking and Louisiana Voices Unit II Fieldwork Basics.
4. Procedures & Personnel
At least two people are needed, but more is better, especially if you want to record interviews. One person needs to greet and give each quilt owner a pen and one documentation form per quilt as quilts are brought in. Direct the quilt owners to tables and request they complete all of pages 1 and 3 of the form. Quilters can fill in much of page 2.
The Documentation team, including a photographer and person familiar with quilting terms to complete page 2, will complete page 2, except for Brackman numbers. (Identifying Brackman numbers is optional. If you are submitting the forms to the Regional Folklife Program, we can research the Brackman numbers later. If you wish to research the Brackman numbers, for pieced quilts, consult Barbara Brackman's Encyclopedia of Pieced Quilt Patterns Paducah, KY: American Quilter's Society, 1993. For appliqué quilts, see Brackman, Encyclopedia of Appliqué, McLean, VA: EPM Publications, 1993.)
Photography: When quilt owners complete the form, it's time to photograph the quilt. Being careful to align edges with tape measure (if on the backdrop on the rack; otherwise, complete all the measurements on a table), clip quilt to photo rack (unless quilt is too fragile). Pin the number beside the quilt on the lower left if possible. Do not place the number on top of the quilt, but have it close enough for it to be in the photo. Photograph and record measurements; some quilts may be larger than the rack. Try to get the full quilt in the photograph. Do the best you can. Also, if the quilter is there and is willing, take a second photo of the quilter in front of one of her quilts.
Interview with quilter: If you have an extra person, an in-depth interview with the quilter would be great. For interviewing tips, see Documenting Quiltmaking and Louisiana Voices Unit II Fieldwork Basics, The Alliance for the American Quilt's Save Our Stories.
Complete the rest of the form; for instructions on the form, click here. Return the quilt to the owner. Some may want a copy of the form later, but be sure to tell them that the quilt will be in the database. NOTE: you may want to take detailed photos of special quilts. Thank the owner for assisting with research.