PAST AND CURRENT PROJECTS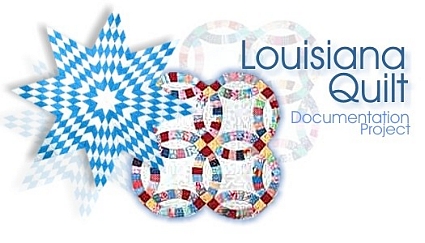 Louisiana Quilt Documentation Project History
By Susan Roach

The Louisiana Quilt Documentation Project identifies and documents quilts made in Louisiana from the days of earliest settlement of the state to the present. While some quilt research has focused on historic quilts or those made prior to 1945, this project includes Louisiana quilts made in all eras in an effort to understand the complete history and evolution of a craft that includes traditional (or folk), revivalist, and contemporary art practitioners.
Project Goals:
To document in detail all types of quilts made in different periods in the state with photographs, measurements, and other formal information.
To document quiltmakers and their backgrounds.
To assist quilt owners in identifying and maintaining the history of family quilts.
To provide community organizations and institutions the necessary tools and approaches to document quilts in their region.
To develop appreciation for quilting as an important expressive artistic form
To preserve historic quilts.
To assist communities in developing community exhibitions of their quilts.
To incorporate other earlier research on Louisiana quilts.
To compile a database of quilts to be available for scholarly study.
To collect representative information on quilts from all areas of the state in order to develop a traveling statewide exhibition and a publication on quilts from Louisiana.
Project History and Data
Based on similar quilt documentation projects in Mississippi, Kentucky, and other states, this project was begun in 2001 as a research activity of Dr. Susan Roach, folklorist when she served as Regional Folklorist for the Louisiana Regional Folklife Program at Louisiana Tech University. The research built on her earlier research for her doctoral dissertation at the University of Texas at Austin on "The Traditional Quiltmaking of North Louisiana Women: Form, Function, and Meaning" (1986). For her dissertation research, Roach conducted in-depth interviews with over 40 Anglo-American and African-American quilters in North Louisiana. In 1984, she also held an initial quilt documentation event at the Lincoln Parish Museum in Ruston, which was the site of the first documentation clinic for the Louisiana Quilt Documentation Project April 18, 2001. Documentation clinics were held across the Northeast Louisiana Region 1. She also conducted clinics in Natchitoches and Caddo Parish, and Region 2 folklorist Dayna Lee also documented quilts in the Northwest Louisiana. In 2003, Laura Westbrook brought the project to the University of New Orleans branch of the program and held documentations throughout the greater New Orleans area.
In addition to research conducted by the Regional Folklife Program from 2001 to the present, the project includes data from other earlier documentation efforts. The largest volunteer documentation project—the Louisiana Quilt Project—begun in Northwest Louisiana by Judy Godfrey and Sandra Todaro in 1987, surveyed quilts made until 1945 in the Shreveport area. This data was used in Judy Godfrey's M. A. thesis at Louisiana State University-Shreveport: The Quiltmaking Traditions in Northwest Louisiana Prior to 1945 (1988).
Godfrey's project expanded beyond the area until 1990 to include quilt registries held at various sites across the state. The material from this research were deposited in the Louisiana State Archives at Baton Rouge, where it is still housed. Thanks to the generosity of quilt researchers and the Louisiana State Archives, that data was duplicated for inclusion in the Louisiana Quilt Documentation Project database.
The Louisiana Quilt Documentation Project also includes the Masur Museum quilt documentation, in 1997, conducted by Susan Roach and Mike Luster. This documentation was held to locate quilts for a 1998 quilt exhibition at the museum. These combined efforts have documented over 2500 quilts across the state, west to east from Keachie to Lake Providence, down to Alexandria and Natchitoches, and the southeastern reaches of Buras and Venice. The dates of quilts documented range from the 1800s to 2009.
Project Future
Long-term plans include a traveling exhibition and a publication on Louisiana quilts, thereby giving Louisiana its own state quilt book. Louisiana was invited to network with other states through the National Quilt Index, a project of Michigan State University. The quilts from the Louisiana Quilt Documentation Project can now be viewed on the National Quilt Index. Quilters may also document their own quilts for the benefit of their families. For instructions and forms for documenting quilts, click here.