PAST AND CURRENT PROJECTS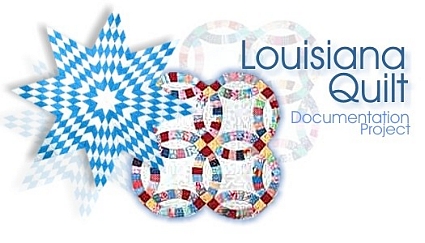 Louisiana Quilt Documentation Project - Quilting Resources
By Susan Roach

Online Resources
Other Publications
Beardsley, John, et al. The Quilts of Gee's Bend. Atlanta: Tinwood Books, 2002.
de Caro, Frank, Rosan Jordan. 1980. Louisiana Traditional Crafts. LSU Press: Baton Rouge, LA. (Out of print. Available in Louisiana libraries)
Freeman, Roland. A Communion of the Spirits: African-American Quilters, Preservers, and Their Stories. Nashville: Rutledge Hill Press, 1996.
---. Something to Keep You Warm. Jackson, MS: Mississippi Department of Archives and History, 1981.
Leon, Eli. Who'd a Thought It: Improvisation in African-American Quiltmaking. San Francisco: San Francisco Craft and Folk Art Museum, 1987.
Mazloomi, Carolyn. Spirits of the Cloth: Contemporary African American Quilts. New York: Clarkson Potter/Publishers, 1998.
Orlofsky, Patsy and Myron. Quilts in America. New York: McGraw Hill, 1974. An older, but reliable book available in many parish libraries.
Roach, Susan. The Traditional Quiltmaking of North Louisiana Women: Form, Function, and Meaning. Diss. University of Texas at Austin, 1986. Ann Arbor: UMI, 1986.
Roach-Lankford, Susan. Patchwork Quilts: Deep South Traditions. Alexandria, Louisiana: Alexandria Museum, 1980.
Vlach, John Michael. The Afro-American Tradition in Decorative Arts. Athens, Georgia: University of Georgia Press, 1990; (originally published Cleveland Museum of Arts. 1978).
Walker, Alice. 1985. "Everyday Use." Love and Trouble: Stories of Black Women. Harcourt Brace.