VIRTUAL BOOKS



Thomas Edison "Brownie" Ford: Cowboy, Storyteller, and Ballad Singer
By Susan Roach
Editor's Note: With assistance from Nick Spitzer, a version of this biographical statement was prepared for the nomination of Ford for the Louisiana Governor's Arts Awards for Folk Artist of the Year in 1996. Ford received the award just months before his death August 27, 1996. While he was not a native of the Delta region, he spent his last 24 years there in rural Caldwell Parish, where he became a celebrated folk artist. His music and biographical details are presented in the liner notes for his 1990 CD Brownie Ford: Stories from Mountains. Swamps, and Honky-Tonks.
Thomas Edison Ford, better known as "Brownie," was one of the last real old-time in Louisiana woods cowboys and one of Louisiana's few documented traditional singers of the old Anglo ballads, cowboy songs, and blues. Ford lived his ninety-two years rodeoing, cowboying, and singing in Texas, Louisiana, and Oklahoma. He had a vital presence on the cultural scene, performing his music, stories, and crafts untiringly at festivals, both large and small and representing Louisiana across the country in national presentations and exhibitions. But even before these contemporary performances, he spent much of his life with his artistic musical performances in contexts ranging from the Wild West Show to country honky-tonks.
Audio Player
"Barbara Allen" by Brownie Ford, from the CD Brownie Ford: Stories from Mountains, Swamps, & Honky-Tonks , Flying Fish Records, 1990. Used by Permission.
Born in Oklahoma Indian Territory on January 9, 1904, of Comanche and Anglo-American ancestry, he experienced both cultures and, consequently, also the pain of racial inequities. When he was a boy, his family moved to East Texas. During these years, Ford learned to play guitar from his father and began playing guitar and singing at house parties and local jamborees. He also learned to break horses, and because of his skill went back to Oklahoma to help an uncle who was a horse trader and rodeo promoter, supplying horses for the U. S. government (Spitzer).
After 1917 when government demand for horses had decreased, Ford and his uncle joined a Wild West Show, the M. L. Clark Great Combined Wagon Show, out of Alexandria, Louisiana. First caring for the stock, Ford soon began trick riding and acting in Buffalo Bill skits. During the next twenty years, Ford travelled across the South and Southwest with various shows such as Slim Jackson's Wild West and Dr. Tate's Medicine Show and occasional circuses, performing as a bronc rider, musician, clown, escape artist, and marksman. During the 1930s Ford began to work on his own on the rodeo circuit. Some of his most entertaining stories reflect this period of his life. For example, he recounts trying to drive a herd of circus elephants across the Atchafalaya River in central Louisiana and the time in Port Arthur rodeo when he was almost killed by a bucking horse that kicked him in the head (Spitzer). He survived that near death experience and another one in 1990 when he had surgery and went into a three-month coma. According to his story, he woke up, and reportedly asked the nurse, "Where's my boots?" and was told "that he'd been unconscious, that he might never walk again," to which he replied, "Hide and Watch" (DeRiso "Rodeo").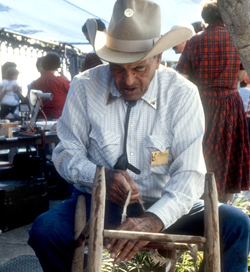 During the forties and fifties Ford had jobs in rodeo, music, and ranching, where he continued to perfect his cowboy crafts such as leather tooling, saddle making and repair, girth weaving and domestic crafts such as cowhide chair bottoming—crafts that he would later demonstrate at folklife festivals.
After a move to Baton Rouge in 1960, he worked as a truck driver, construction worker, and musical performer. He performed regularly at the Cut-Rate Lounge and also at other clubs, where he met and married his wife—whom he usually referred to as "Miss Cody." In 1972 he moved to Hebert, Louisiana, in Caldwell Parish, where he raised and sold cattle until major area floods forced him out of the woods cowboy business. He opened a grocery and bait shop and continued to make his cowboy crafts for members of the community (Spitzer).
His cowboy crafts and music led to a new career as a folk artist. His initial experience in this area was at the Louisiana Art and Folk Festival in Columbia, where he demonstrated his crafts and performed his music. Through the efforts of festival organizers Greg and Jorenda Stone and Jenny Crump, he became involved in the region's artists-in-schools program. Folklorist Nicholas Spitzer recorded him in 1981, and by 1983, he was asked to perform and contribute material for The American Cowboy Exhibit at the Library of Congress. His songs, "Streets of Laredo" and "Banks of the Ponchatrain" were also featured in The Cowboy Tour, produced by the National Council for the Traditional Arts. In 1984, he was invited to perform at the 1984 World's Fair in New Orleans. The following year, he performed at the first Louisiana Folklife Festival in Baton Rouge. Also in 1985 and again in 1986, he was invited to sing and demonstrate his crafts nationally at the Smithsonian Festival of American Folklife. Also in the state scene, he was invited to place some of his cowboy crafts in The Creole State: An Exhibition of Louisiana Folklife, an exhibit in the state capitol for 17 years and now online; additionally, he performed numerous times at the Louisiana Folklife Festival over the past ten years in co-sponsoring cities Kenner, Eunice, and Monroe. In 1987 for the rich heritage he represented, he received the highest national honor bestowed on folk artists—the National Heritage Award, from the National Endowment for the Arts Folk Arts Program. Even after receiving this prestigious award, he continued to play even the smallest of festivals and major festivals including the New Orleans Jazz and Heritage Festival. At all these festivals, he sang sensitive ballads and gutsy blues with his powerful bass voice, unaffected by his ninety-plus years. His 1990 compact disc Stories from Mountains, Swamps, and Honky Tonks, released by Flying Fish Records was well received. According to Nicholas Spitzer's liner essay, the work is "an oral scrapbook. . . containing "the rough edges, polished surfaces and soul" of Ford: "bronc rider and craftsman, honky-tonk man, and gentlemen, raconteur, singer of songs, and Indian cowboy of the woods" (Spitzer). The recording presents Ford's wide range of musical performance from traditional ballads such as "Barbara Allen" and "The Knoxville Girl," to country songs such as "This Old House" and "Satisfied Mind," to cowboy songs such as "The Streets of Laredo" and "When the Work's All Done This Fall." The CD liner notes were introduced by Rodney Crowell, singer/songwriter, who has many number one country hits such as "Leaving Louisiana in the Broad Daylight" and "After All this Time." Crowell calls Ford a "gentleman cowboy" who "stands up straight and proud in honor of his tradition" (Brownie Ford).
With the release of this recording, Ford received even more attention from the media and folklorists, which culminated in his concert at Carnegie Hall on April 17, 1994. He followed this up a couple weeks later with a performance at the New Orleans Jazz and Heritage Festival—a feat that for a ninety-year-old represents true dedication to his art and his audience. Following these presentations a few weeks later on Memorial Day Weekend, for the 1994 Louisiana Folklife Festival, Ford participated in a memorable narrative stage presentation on "Black and White and the Blues," which discussed the interaction of blues and country music in Louisiana. He joined other black and white musicians such as Jesse Thomas, Henry Dorsey, Tookie Collom, and Kenny Stinson and discussed his memories of Blind Lemon Jefferson and his effect on Ford's country music. Stinson says of Ford, "He was such a great storyteller. . . Just to hear him sing was enough, not to mention the great songs he had. . . Playing with him was a real thrill. Being next to somebody like him, you always pick up a few sparks" (DeRiso "Rodeo"). Nicholas DeRiso hailed Ford as the "elder statesman in the history of Louisiana's contribution to the blues" who knew as many as 2,000 songs ("The Hiding and Watching," "Rodeo"). In an expanded obituary article, Mike Luster, Director of the Louisiana Folklife Festival in Monroe, said that Ford "was part of the Louisiana Folklife Festival from its very beginning, and has probably appeared at more of them than any other performer" (DeRiso "Rodeo").
Because of the difficulties and the richness of Ford's Native American/Anglo upbringing and his frontier experiences, Ford has been able to understand and deeply feel the blues as well as heartbreaking honky-tonk music. He was able to reach out across cultural divides through his performances as a folk artist. His delight in sharing his skills with younger generations shone through in all his performances. His sensitivity and gentlemanly qualities are reflected in his soulful Anglo-American ballads delivered in his deep baritone and his moving explications of them. He embodied all the qualities that folklorists seek to nourish and cherish in their work among traditional artists. Ford dedicated his life to these traditions and to preserving this important part of Louisiana's heritage.
Works Cited
Crowell, Rodney. "Introduction" Brownie Ford: Stories from Mountains. Swamps, and Honky-Tonks. Flying Fish Records, FF 70559, 1990.
Deriso, Nicholas Rey. "The Hiding and Watching Louisiana I-20 Blues." Louisiana Folklife Festival Program Book, Monroe, La., 1995. Online: http://www.louisianafolklife.org/LT/
Articles_Essays/creole_art_120_blues.html
_____. "Rodeo Star Reaches Last Roundup." Monroe News-Star. 29 August 1996, 11A+.
Spitzer, Nicholas. Liner notes. Brownie Ford: Stories from Mountains. Swamps, and Honky-Tonks. Flying Fish Records, FF 70559, 1990. Online: http://www.louisianafolklife.org/LT/
Articles_Essays/brownie_ford.html
"Streets of Laredo," "Banks of the Ponchatrain" selections on The Cowboy Tour (album made with eight other senior cowboys). Recording produced by National Council for the Arts, 1983.