VIRTUAL BOOKS



Instrument Builder Hilton Lytle: "I've Always Worked with Wood"
By Susan Roach
If you vibrate or rub a string on a good fiddle, . . . , it's like tossing a pebble into a still pool of water and the waves go out evenly.
—Hilton Lytle
Hilton Lytle is one of the most respected instrument builders in the Delta region. He is a true Louisiana folk treasure because of his traditional creativity, his artistic excellence, and his generosity in passing on that excellence. Attending college at Texas A & M after World War II, he majored in industrial education. He went on to complete a master's degree and almost completed his doctorate, but moved back to Louisiana when his father died. He had been a supervisor of an industrial arts program in Austin, and in Louisiana he worked as a counselor in Winnsboro, then at Neville High School for five years, and then worked as a counselor for over 20 years at the vocational technical school in Monroe, Louisiana, where he retired and focused on building instruments. His degrees and education positions did not hold Mr. Lytle back as a folk artist.
His youth spent in rural LaSalle Parish on the margins of the Delta shaped his life, his beliefs, and his instruments. Like most folk craftsmen, Mr. Lytle's musical learning and creativity started at a young age growing up in Jena, Louisiana, as one of five children. His father, James Lytle, born in Vidalia, was a railroad engineer, and his mother stayed home and "took care of everything." He explained how he got his first musical instrument and learned to play it by ear:
When I was a kid 8 years old I worked for about a week for a lady cleaning out her yard and then she gave me 25 cents and I bought a harmonica called an American Ace; that was in about 1930. . . . I kept my American Ace harmonica for a long time and learned how to play tunes like "Home Sweet Home" and "Old Rugged Cross" and "Amazing Grace" and let's see "Redwing" was another favorite at that time, and "Maggie" and "Danny Boy." (2005)
As a boy, he made his first cigar box fiddle, with strings from his family's brand new screen door: "So I noticed one of the screen wires at the top of the door was loose so I decided I'd pull it out and I'd make my music box using that for the wire to pluck. So when I pulled that wire out, it come down the entire length of a 6-foot screen door so I had plenty of wire."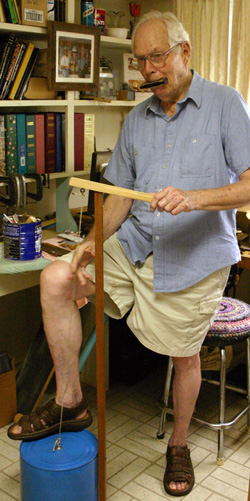 Mr. Lytle explains his lifelong relationship with wood: "I've always felt comfortable with wood, but I've never felt comfortable with metal, like automobile mechanics." He liked studying of all the different types of trees. By the time he was 10 years old, he knew the names of every tree in the country where he grew up. He knew how they grew and where they grew and how fast they grew.
This knowledge of wood led to his crafting of all kinds of inventions and toys (dancing dolls, Happy Slappies, picking bows), and his accomplished instruments, including guitars, dulcimers, hammered dulcimers, Dobroes, mandolins, banjos, violas, cellos, and of course, his specialty the violin (fiddle). His wife Nancy and a visit to the Ozark Folk Center in Mountain View, Arkansas, inspired him to build his first instrument—a dulcimer from a kit they ordered, and that became a hobby that would lead to building major instruments. He learned some instrument-building techniques initially in 1970 from the Foxfire books, magazines, and other fiddle makers such as Monroe's own Doc Savage, a famous fiddle builder in the region (see Roach). Doc Savage had quite a reputation among national musicians, which evidently drew Lytle into this milieu. Lytle recalls that he sold the first fiddle he made in 1970 for about fifty dollars to a blind church musician in West Monroe. Of his major instruments, as of 2005 he had built 25-30 guitars, 100 dulcimers, 25-30 mandolins, and 144 fiddles—his specialty.
He credits his deep knowledge of wood for his creation of exquisite-sounding violins that are sought by musicians in symphony orchestras in Dallas and country stars in Nashville. He has used that experience, coupled with an interest in physics to develop violins with superior sound. He emphasizes aesthetics of sound: "The length of sustain, or how long it will ring, is important in how the fiddle is going to sound and how beautiful the tone is." To accomplish this, he has developed several techniques. He discusses how he likes to balance the wood which gives it a bell like quality before the parts are put together. With the help of his late wife Nancy, who had perfect pitch, he was able to find out what notes go together to make a beautiful sound, to give a violin a beautiful tone. He likes to use a micrometer to help him shape each side so that it can be "tap-tuned" to a certain note. He explains his goal:
So if we get that shape perfect and we get this to tap tone and I can hold it to my ear and tap it and we can come up with a G note (that I've already marked on that [top]. If this [top] is a G, and this [bottom] is an F sharp, and I put those 2 together with the sides and do real careful work so that it all balances and everything then I get a perfectly beautiful sounding violin.
He has even developed a mathematical theory to explain all this. He explains it with an eloquent metaphor: "If you vibrate or rub a string on a good fiddle . . . , it's like tossing a pebble into a still pool of water and the waves go out evenly, spread out evenly." He has spent many hours studying the physics of a vibrating string. He continues his pebble metaphor to explain why some violins may not sound as good:
If you throw two pebbles in, they interfere with each other, and my theory is to have this so balanced and so well made until the sine curve—and this has a little bit to do with math—if the sine, if the zero point is at the bridge, and 180 degrees of the sine curve go out from it to the left and 180 degrees from the right, out in that direction then it will also go out that way from the side too. So you have a balanced top with the tones that leave this resonator being uninterrupted; [that] would be my theory.
Lytle also works to balance the top of the violin on a pencil to determine where to place the sound post. He explains another trick of the trade that he has developed involves coordinating the direction of the wood grain of the top and bottom pieces of the violin:
"By turning the grain [of the bottom of the violin] horizontal, or perpendicular, to the grain in the top then I can get a good spring and a good vibration from the bridge and what I'm trying to do is to get, when you rub a bow on a string and it vibrates; then the sound goes through the bridge to the body to the resonator part of the violin." His careful attention to such details has garnered him a national reputation.
In spite of his renown, he leads a simple life mostly in his "workshop," formerly his wife's art studio, where he settled in after the death of his beloved wife of 54 years. With his cat resting on its Lytle-designed cat tree in his workshop, Lytle devotes himself to his creations.
The Ozark Folk Center in Mountain View, Arkansas, has also been a recipient of Mr. Lytle's traditional knowledge. He not only demonstrated traditional crafts such as instrument building there, but also passed on his craft to apprentices there, including current Dan Thomas. Each year Thomas and Mr. Lytle give a scholarship to a Mountain View graduating senior who has been in the Music Roots Program there.
Although he had no children, Lytle has passed on his craft-building skills to his brothers; his brother Thomas in Jena learned to make dulcimers, and his brother Lloyd in Springhill makes fiddles. In addition, he has built beautiful instruments for musicians locally and beyond. He has shared his knowledge generously with those who are eager to learn, including Britton Curry, T-Bow Lairsey, and a guitar builder from West Monroe, Rick Felkel, who says that he learned not only guitar building from Mr. Lytle, but also how to treat and work with young people. Rick says of him: "He's a good man and a treasure."
As Lytle humorously told me, he also shares his time and talents performing locally at nursing homes, with his "electrified bed slat"—a dulcimer made out of a bed slat with an electric guitar pick up. He also likes to play his harmonica inserted into his resonator created out of a tomato can. He copied the idea back in his youth: "I had seen an ad by the Hunter company where they had made a harmonica and put it in a beautiful container like that and I just copied what I saw in that picture. They had advertised it, that was in about 1928 or 9 somewhere along in there." For added humor, he puts a string covered with pine rosin in the bottom of a can and pulls on that string to make a "dumb bull," which makes a horrible noise; these were traditionally used to scare someone in the woods. He has designed his own "gut-bucket bass" with a hinge instead of one piece as most of them are structured.
He likes to use Venetian blind cord and a 5-gallon tin can (plastic doesn't work as well). With these instruments, as a one-man band, he loves to sing his "Geriatric Blues," a song he and his wife decided to write as they were approaching retirement. He explains their motivation for the song:
My wife and I were thinking how should people act when they get old? You know how should they behave, and we didn't want to go around being a couple of old soreheads so we decided we would have fun doing it and so we decided to write a song, and we thought up the name of the song and since young people are going to college now studying the courses in Gerontology—that's the study of the aging process and how to take care of these old people and what's going to happen to them in these nursing homes and everything. . . . So we decided we would try to make it as pitiful as we could so that anybody that heard it, it would just about bring tears to a glass eyeball, and that's how we came up with this idea here . . . Got to be real bluesy and everything, make it sound pitiful: Oh yeah, got them old age blues. Know just how bad I feel, uh-huh./ Got them old Geriatric Blues, you know just how bad I feel/ Sitting here on my front porch waiting for my meal on wheels.
With the song begun in 2000, Lytle now has 17 verses for it and adds new ones as they come to him.
As Lytle approached his 89th birthday, three women—Phyllis Brode, Kathy Regan, and Jo Ann Otts—organized a large celebration to honor "Hil" at the Auburn Presbyterian Church in Monroe on June 4, 2011. A huge crowd of friends and the musicians turned out to play music or pay compliments to their old friend. They were there to thank him for building or repairing their instruments and for his generous giving spirit, which provided needed guidance, support, money, or even a place to live during hard times.
He was there to respond in kind, and, in his typical good humor, performed a few verses of his "Geriatric Blues."
Video Player
Hilton Lytle playing "Geriatric Blues." Video: Susan Roach.
Embodying the Protestant work ethic and service to his community—common traits found in the Delta—Lytle continues to share his gifts with close friends and people he has just met. His craft becomes both his work and a means of transcending losses in his life and connecting him to others. The "work" and the sense of touch figure large in his own description of his work with the craft:
I've always worked, I was working then [when he made his first fiddle], this is just a fun thing I do. I've always worked with wood, I've always felt comfortable with wood, but to touch wood. . . to have a relationship with wood that I didn't have with anything else. . . I enjoyed the feel of it.
Work Cited