VIRTUAL BOOKS





Traditional Boats
By Hiram Ford "Pete" Gregory, III
Editor's Note: In the early 1990s, Pete Gregory wrote these personal reflections about Northeast Louisiana's Delta and they are published with minimal editing. Also see his Musings on the Louisiana Delta from a Native Son.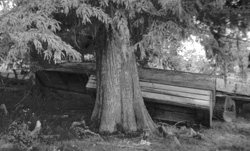 Wrecked boat gunwales are scattered all along the rivers and bayous across the Delta. Periodically, the ribs and keel of an aged keelboat are found stretched along a sandbank, and hulls of steamboats lie deep in the mud. A bluff caves away and leaves an ancient Indian dugout exposed on a bluff side. It seems if you look around, these boats are strewn around like children's toys. Once they were used daily for travel, for freight, and for recreation.
The Delta is one of the earth's largest wetlands, and all the people who have come to live there have created boats to cope with that. Dugout makers continued their craft until the 1900s. Sawn boards were too expensive, too hard to get, and those cypress trees all had a boat in them—they just had to be carved out. Dugouts had a lifespan after the Euro-African arrivals: first boats, then water troughs for horses and cattle, then oblivion. Rarely, one became a flower box or, even more rarely, wound up in a museum in some small Delta town. Still, these boats were made for over a thousand years by the Indians, by the French, by Anglo-Americans, and by blacks who knew such things before they knew America, before they knew slavery and what followed.
Indians burned and scraped out their canoes, but Europeans used steel adzes to hollow theirs out. Africans, too, used iron or steel tools. Shapes changed from natural logs with flat or punt ends. Blacks streamlined the hulls and pointed the ends, making the boats their own. This amalgam created the dugouts that darted about the rivers and bayous paddled by generations of Delta river people.
Sawmills replaced the axe, and adze and the wide range of board boats gradually replaced the dugouts. Usually called bateaus, these punt-ended, flat bottomed boats gradually spread everywhere. They were hand-built, and some men specialized in building them. Usually, older men who didn't pursue fishing or farming much, they created their own variations, their own templates for shaping the gunwales, the transom, and the bow. Hours upon hours were spent with a jack plane, getting the right junctures, insuring the boat would plane when powered by an inboard, or later, an outboard motor. Flatboats and keelboats, both used for at least a century for moving produce, livestock, furniture, and family, made way for the lowly bateaus.
Likely one of the most remarkable boats of the Delta was the houseboat or camp boat. Fisherfolk and flood refugees—whole families—lived in houses built on barges. The river rose, and so did they! They moved their camp boats to the hills, just as they towed pen boats loaded with livestock. They followed float roads across the swamps that they had cut generations ago.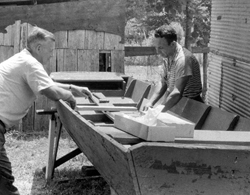 Fishermen and others followed the rivers, and in the 1930s their camp boats were common sights. By the 1940 s and '50s, commercial fishing was diminishing and the "shanty boat" settlements disappeared. Federal and state authorities drove the people off the Mississippi, Red, and Atchafalaya battures. Only the skeletons of the houseboats survived, in some places turned into tenant houses on plantations. Most were razed for lumber or just allowed to rot away.
The coming of thousands of immigrants from eastern and central Europe opened a huge market for freshwater fish. Natchez, Vicksburg, Jonesville, and Simmesport all had ice plants; access to the railroads, and markets (always called docks) sprang up along the streams in those places. Thousands of pounds of fish were packed in ice, shipped to the north and east. Markets began to run fleets of yet another boat type, the fish boat or buyer's boat, basically a flat skiff with an inboard gasoline motor and a cab above a deck with a cargo space. These boats could pick up, ice down, and carry fish to the markets. Some became grocery delivery boats and people ordered things like cloth or canned goods which they paid for out of the cash they got for their catch.
Doctors, dentists, and even entertainers adopted these boats to carry their services to the people living along the streams and even to nearby logging camps or other agglomerations of people in the wet places. By the end of World War II, the commercial fisheries had begun to decline, roads and trucks began to replace the boats, and the fish boats were taken apart or allowed to disintegrate. Today they are all but gone from the whole of the lower Mississippi region.
Aluminum bateaus—Arkansas travelers some call them—have replaced the wooden bateaus. The old craftsmen have put away their tools and the beautiful knot-free cypress boards destined to become boats are harder and harder to find. Board boats are built by traditional artists, and techniques are now taught in college classes. Rarely a young man tries to make a dugout. He likely prefers the adzes made by his ancestors or facsimiles of them he has re-invented. Fiberglass hulls—molded to order and driven by 130 horsepower outboard motor—are the sports cars of the Delta. Full of glitz and glitter, these bass boats are the dreams of Delta men and boys.
As dams created huge lakes around the edge of the Delta, house boats made a comeback. Steel and aluminum with indoor plumbing, electric generators, and big engines, these are the suburban yachts of the Delta. Credit lines or affluence still ties the Delta folks to life on the water.
These things don't really disappear; they just shift form and function. The Delta is that kind of place.1
Notes