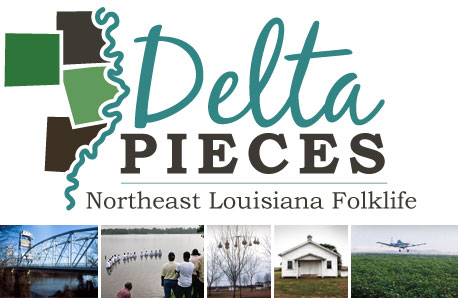 Susan Roach and Maida Owens, editors
Delta Pieces: Northeast Louisiana Folklife is the compilation of research conducted over 20 years by a team of researchers and community scholars coordinated by Susan Roach and Maida Owens. Most researchers were involved in the Delta Folklife Project or the Regional Folklife Program at Louisiana Tech University, but some previously published their research elsewhere and have granted permission to include it here. Together these essays offer a view at this fascinating region of 12 northeast Louisiana parishes running south down the Mississippi River from the Arkansas state line though Concordia Parish, Louisiana. 
The Educator's Guide for Delta Pieces includes 12 units. Each Guide unit relates to a unit within the Delta Pieces: Folklife in Northeast Louisiana essays. The Educator's Guide units correlate to the Common Core State Standards, particularly those in English Language Arts and are for grades 3-8.