VIRTUAL BOOKS




The Invisible Population: Mexicans and Central Americans in Northern and Central Louisiana
By Lisa Abney
People of Hispanic cultures have long had a home in Louisiana but until recently most were descendents of Spanish colonials or Canary Islanders or other early immigrant groups. However, within the past twenty years, the Hispanic population of Louisiana has undergone a gradual shift—particularly in the rural areas of Northern and Central Louisiana—as Hispanics from Mexico and Central America have heard the call of Louisiana's agricultural industry and its other economic opportunities and made the long and arduous trip from their homelands. The 2000 U.S. Census indicates that Louisiana has an Hispanic population of 107,738—making Hispanics the third largest ethnic group in the state. Over the past five years, however, many Louisiana residents have begun to notice growing numbers of Mexicans and Central Americans in their cities and towns. This increase can be attributed to a variety of factors—Louisiana's urban construction industry and the state's rural farming and livestock industry. In addition, increased Mexican and Central American populations in East Texas and in Southeast Texas have forced some immigrant workers to move northward to Oklahoma and eastward into Louisiana to find employment. This recent immigrant population, while fairly high in number, resides on the margins of Northern and Central Louisiana's mainstream society because of language barriers and the types of jobs in which they are employed—primarily rural agriculture.
Many of these workers, like Eliseo Banda, have earned American citizenship and continue to live part-time in the United States and part-time in Mexico. Eliseo, who was the subject of a series of newspaper articles in the Alexandria Town Talk in 1999, works part of each year in Avoyelles Parish farming corn and sweet potatoes and then returns to Mexico once the harvest is complete. He is not alone in this way of life for many of his co-workers hail from his village and travel with him during the growing season. Often, families remain in Mexico while the men journey to Louisiana to work and send a large portion of each paycheck home to support them until the men can return.
For some of Louisiana's workers, returning to their country of origin is less of an option; many have moved with their families and have formed cohesive communities in rural areas. Because of the plant nursery industry, Forest Hill, Louisiana, maintains a growing Hispanic population with its own church and with the services conducted in Spanish. Farther north, in Natchitoches Parish near the Cane River area, another small Hispanic community flourishes, and offers mass in Spanish at St. Anne's Chapel. For the workers in these communities, Louisiana is now home.
Along with these growing settlements, some Hispanic workers also reside at the farms on which they work. For example, in Sabine Parish, Hispanic workers often find employment in the poultry industry. For them, especially those who work in the chicken houses, life is difficult. Poultry farming demands the attention of agricultural workers seven days a week, and even a day off is a rarity. The workers sometimes share duties allowing their co-workers to travel to Natchitoches, the largest, neighboring city, to obtain supplies and groceries. For the most part, the owners of chicken farms provide housing, electricity, and water for the workers, and some of them allow the use of a farm vehicle for shopping and trips to town. For the most part, however, these workers are bound to the farms on which they work because of the kind of labor which they perform. Their socializing is with neighboring laborers, many of whom have also brought family members to work on the farms.
Not all Hispanic workers, however, are coming to Louisiana to work in agriculture. Many have made their way here to work in construction or in the oil and gas industry. Over the past ten years, cities like Shreveport and Bossier City have seen dramatic increases in the building industry with new home construction and business expansion. Some of these workers have migrated to Louisiana via California. Although some of the Mexicans and Central Americans in Louisiana are undocumented workers, many others appear to hold proper immigration credentials, and several, like Eliseo Banda and Francisco Rivera, hold official permanent residence status.
The Rivera family traveled to Louisiana as migrant workers. Their son, Francisco, 28, who came to the United States when he was only about a year old, began working in construction when he was in his teens, and through hard work has become quite successful He now owns a roofing company in Shreveport. He and his workers take jobs as far away as Missouri, and he has achieved a great deal of success especially for someone who has had to overcome language difficulties and other socioeconomic barriers. Francisco is bilingual and is raising his children to be bilingual, yet his parents still speak mostly Spanish.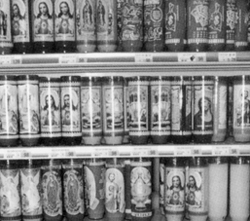 The influence of the new immigrants can easily be seen in places as ordinary as the local grocery store. In northern Louisiana, many chain groceries have begun to stock a larger inventory of Hispanic foods, attributable to market research based on demographics. Almost all Wal-Mart stores have begun to increase their Mexican food products with rice, beans, corn shucks, and masa harina becoming far more common than they were five years ago in small town stores. In the produce section of Super 1 in Alexandria and in Bossier City, tomatillos, nopales, and a wide variety of Fiesta brand herbs and spices are now available. In the Bossier City store, near the produce section, a free-standing display holds a wide variety of Mexican candy. Clearly, this population has an influence upon what kinds of items are merchandised at the store. Additionally, a Bossier City grocery store called Cinco De Mayo further indicates the Hispanic population.
Maria Silva, an Alexandria resident, says that nowadays finding Mexican foods is far easier than when she first came here fifteen years ago from Dallas. She points out that while Mexicans and Central Americans do eat traditional foods like tacos and rice and beans, they also eat "the same things that Anglos eat." She declares that her family does not eat traditional Mexican food everyday. Her family's eating choices reflect the fact that Maria arrived in Texas when she was fairly young and resided there for several years, and so she and her family—while they self-identify as Mexicans—have assimilated much of the typical American culture. Nevertheless, Silva asserts that, however Americanized she and her family may have become, her grandchildren do understand Spanish and at holidays the family still makes the tamales that Mexican families traditionally enjoy during the season. The availability of traditional food items at the grocery makes such cultural choices possible.
The endurance of traditional healing practices can also be easily seen at the grocery store. Because many Hispanic workers (like much of Louisiana's Anglo and African-American population) do not have access to health insurance or frequent health care, they continue to rely upon folk medicines and the over-the-counter products that are used in folk medicine. At Super 1 foods in Bossier City, in the health and beauty aisle of the store, one aisle is devoted to Hispanic medicines and grooming products such as hair tonics and soaps. A good example of the influence of Hispanic culture on merchandising can be seen in a box of McCoy's cod liver oil tablets. The box is covered in Spanish writing, with the exception of the brand name that appears in large letters in English. Products like the McCoy's Cod Liver Oil and manzanilla, an herb which is given to infants for Colic, can easily be found in many northern Louisiana supermarkets.
While foodways and healing are two of the traditional cultural elements that have traveled with the immigrants, certainly music remains equally important to their culture. When asked what kinds of music she enjoys, Maria Silva quickly responded with "Not Tejano," referring to the Spanish language music of Texas. "I'm a Mexican, and I like Mexican music." She later explained, that like the foods that were once hard for her to obtain, she can now find Mexican music at her local mall's music store. For those working in the rural areas of Louisiana, music store shopping is less of an option, but many obtain the music that they enjoy by asking their relatives to send copies of tapes to them from Mexico. An occasional Mexican worker may play guitar or sing, but because of work schedules, few have time to indulge in recreational activities while here working in the U.S. Eliseo Banda states this about his experiences as a worker: "It's fine, fine living the U.S. In Mexico my life is much more beautiful. No work, rest, a little bit drunk, my family, go to the club." Clearly, those who work in the U.S. spend far less time enjoying their lives than when they return to Mexico.
Within the last twenty years, the number of Hispanic residents in Louisiana has grown and judging from the results of the 2000 Census, the trend is continuing. While many of these Mexican and Central American workers seem an invisible population, their influence can be seen in the grocery stores and in the increased recognition of Hispanic cultural events. During the past five years, the City of Shreveport at Festival Plaza has begun to celebrate Cinco de Mayo. Doubtless, as more Hispanic groups come to Louisiana, such celebrations will expand and increase.