VIRTUAL BOOKS



Po' Henry and Tookie: Delta Blues Duo
By Susan Roach
Representing the best authentic northeast Louisiana traditional old-style Delta blues, Po'Henry and Tookie—the stage name for the blues duo Henry Dorsey and Wayne "Tookie" Collom—have been playing together since 1986 in Rayville, Louisiana. Crossing racial lines, the two contemporaries have a deep respect and friendship that is apparent to their audiences. Designated as leading figures of the blues revival in the region, they play the older acoustic blues originating in the Louisiana and Mississippi Delta region, in a style reminiscent of great blues legends Muddy Waters, Lightnin' Hopkins, John Lee Hooker, and Jimmy Reed. Henry Dorsey's straightforward pleading vocal style is supported by his powerful guitar, and by Tookie Collom's heartfelt and flawless accompaniment on harmonica.
Each of the musicians grew up in a cotton-working family, but on different sides of the state, and each has a traditional music background. Actually, Dorsey and Collom had met each other years before, when Dorsey had worked as an hourly laborer on Collom's uncle's farm for $2.50 an hour, but were not aware that they each played music. When Collom, of Anglo-Scots Irish descent, moved to Rayville, he began looking for someone to play blues. He explains how he got together with Dorsey:
I owned a liquor store and had a young Black guy working with me, and he knew Henry real well, was a mutual friend, and he told me Henry could play music, play the guitar, real good guitar, and he knew I played harmonica, and neither Henry or I knew the other played music, and we got together from that, and that's what started Po' Henry and Tookie. We got together one night, one Wednesday, night. . . We thought there may be something there, and we had a good time with it, but that's all we started with. (Collom)
After getting re-acquainted, they continued to get together on Wednesdays to play.
Henry Dorsey (Po' Henry on guitar and vocals) was born on May 11, 1928, in Oak Ridge, Louisiana. He was an only son of a cotton sharecropping family who all loved the blues. When he was a participant in the 1997 Smithsonian Festival of American Folklife, Dorsey described working with his parents in the cotton fields to a Washington Post reporter:
We picked all day. Got out there pretty early, about 7. . . Fifty cents an hour. If you had $10 saved up, you had some money. You know, a pair of four-button overalls, that'd be back then maybe $2.50. . . . Those burrs and thorns off a boll would get in your nails. . . Oooh. So painful. You'd pick them out at night. (Hendrickson B10)
At night when the family was relaxing from their work, they would sometimes play music. His father's uncle played guitar, his father played the harp (harmonica), and his mother sang blues at home and sometime for suppers and parties. His grandfather had played fiddle and may have taught his father to blow a harp. Henry would go along, but never played. He describes the parties: "They would cook up something another. Just get whiskey, home brew, beer from persimmons, stuff like that. They'd just sit around and eat and drink. Some of them gambled, shot dice" He recalls how as a boy, he made his first traditional instrument —a one-string guitar —with broom wire strung up on the side of the house with bottles for a bridge:
I heard of peoples doing that. I just got me a wire and put it up and tightened it up so I could reach it good from the bottom to the top of it. [The wire ran] straight up and down and put a bottle on the bottom of it and one on the top [between the wall and the wire to form a bridge]. . . . I would get a little old stick in my right hand and pick it and I'd have a bottle in my left hand, and I'd chord it. . . . Lot of people liked to hear me play it. . . I had one on the porch. (Dorsey)
At 15 he got his first guitar and learned guitar basics from his uncle and many songs from the radio and his family's old 78 records that they purchased for twenty-five cents in Rayville: "I think we had over a 100 of Lightnin' Hopkins, Muddy Waters, Elmore James" (Dorsey). He tells how he was captivated by the Delta blues in his youth:
Ever since I've been big enough, you know, I've sang a little bit; I always loved singing and listening to old Delta blues, and it just growed on me. . . When I was big enough to listen to the radio, WLAC Nashville. . . 1510 on your dial-I used to listen to it. I'd stay up at night long as I could till Daddy would make me go to bed.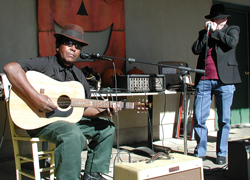 Known as Tookie since childhood, Wayne Collom, born in Vivian, Louisiana, in 1937, also grew up in a family that worked cotton. At eleven, he bought his first "harp," a Hohner Marine Band one, for about a dollar, learning to play harmonica from his grandfather and Bobby Weaver. Listening to the radio and records taught him blues. His style has been compared to musicians such as Little Walter, Sonny Boy Williamson, and Junior Parker. Growing up, he also learned Anglo-Scots Irish songs in school and from parents and grandparents, and later played in a country music band. He loves Doo-wop music as well and has a vocal range from high falsetto to low bass and can sing all the parts. During the 1960s, Tookie was lead singer, harp player, and later bassist in the "blue-eyed soul band," the Rollercoasters, who performed throughout the South and had releases on the Holiday Inn label. Spending many of his years living and working in the midst of cotton farming, no doubt, influenced his choice of playing delta blues, although he has worked many years in maintaining voting machines in Richland Parish. In the past few years, Collom has been playing harp with other bands such as the Ed Greer band.
In 1986 while folklorist Ben Sandmel was contracted to search for blues musicians for the Louisiana Folklife Program's Delta Folklife Project, he discovered and documented Dorsey and Collom about three months after they had begun to play together. With their impressive sound, they were recommended for the Louisiana Folklife Festival and the New Orleans Jazz and Heritage Festival, where they became regulars. Since then, they have also performed at other regional festivals including the Greenville, Mississippi Delta Blues and Heritage Festival, the Baton Rouge Folk and Heritage Festival, and the Rayville Southern Pickin' and Ginnin' Festival. The highlight of their festival experience was their participation in the 1997 Smithsonian Institution's Festival of American Folklife, a two-week festival in Washington, D. C. Featured on the major sign for Blues in the Mississippi Delta and in an article in the festival program book as well, they performed on both the main music stage and the more intimate work stage where they thrilled the national audience with their traditional authentic style of music and discussion of cotton farm life.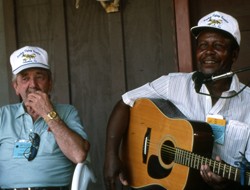 They have opened for musicians such as Gatemouth Brown, Buckwheat Zydeco, the Preservation Hall Jazz Band, and Bobby Blue Bland. They were also featured in Robert Mugge's documentary film, Rhythm 'n' Bayous and the Smithsonian River of Song. In addition to their live performances at national, regional, and local festivals, they perform frequently at benefits and clubs such as Enoch's in Monroe. In 2002-03, they met with and inspired the work of Mikel Rouse, an Artist-in-Residence from New York in the Meet-the-Composer grant to the North Central Louisiana Arts Council. Rouse invited them to participate in his finale performance. They were selected for the 2003 Louisiana Calvacade of Music and performed at festivals and venues such as the House of Blues in New Orleans. They received the 2005 Governor's Arts Award for Folk Artist of the Year.
Since that time, they have continued to play regional festivals and events; however, Dorsey's advancing age has slowed them down somewhat and kept their performances closer to home. Also the death of Collom's wife, Joelle, who had helped them with publicity and bookings, has affected their bookings. Collom, the more experienced performer because of his early years in the Rollercoasters, does the booking, coordinates the travel, and basically organizes the sets for the duo. According to Collom, they have a specialized audience: "There are not a whole lot of people playing the kind of blues we play anymore. . . In Baton Rouge and New Orleans, it's real popular. Most of the people in North Louisiana are into other types of music. But the people up here that like it, really love it" (Phillips).
Audio Player
Cotton Pickin Blues. Recorded by Susan Roach.
Although Collom had been a singer with a popular band in his earlier musical career, he does not sing in the blues duo; instead he leaves the singing to Dorsey, whose songs and guitar lead the performance with Collom's harmonica providing the response and elaboration for Dorsey's lines and riffs. Occasionally, on songs such as Lightnin' Hopkins' "Cotton," Collom steps back while Dorsey performs solo. Dorsey personalizes his version of Hopkins' "Cotton," substituting his own name in the place of "Po' Lightnin'":
Whoa, getting' late over into Sunday evening
Po' Henry's got to go home and take him some rest.
Audio Player
Sun's Gonna Shine. Recorded by Susan Roach.
Then Collom comes back to share the spotlight in their classic numbers from the 1920s and 1930s, such as "Trouble in Mind," "Sittin' on Top of the World," and "Baby, Please Don't Go," In addition to their songs by Hopkins, Waters, Hooker, and Reed, including many pieces written by Willie Dixon, their repertoire includes numbers recorded by blues legends such as Howling Wolf, Sonny Boy Williamson, Slim Harpo, and many others. Other favorites they perform are "Boom, Boom," "Rainin' in My Heart," "Diggin' My Potatoes," "Boogie Chillun," "Hoochie Coochie Man," and "Rock Me, Baby." Po' Henry and Tookie do not perform their original songs, although Dorsey says he has composed one, but they share a common love of traditional blues recordings that they make their own with their powerful duo. Their music transcends the two individuals who are playing by ear, listening to each other closely, and blending so seamlessly that they seem like one person.
Works Cited
Collom, Wayne. Personal interview. 6 July 1997.
Dorsey, Henry. Personal interview. 6 July 1997.
Hendrickson, Paul. "Folklife's Fertile Ground: Delta Traditions Blossom at Festival on the Mall." Washington Post. 3 July 1997: B1+.
Phillips, Fred. "Bluesmen Carry Music from Rayville to Mansion." The News-Star. 12 June 2005. Web. 13 June 2005.