ARTICLES & ESSAYS
Traditional Arts: A Window onto Northwest Louisiana's Multicultural Landscape
Other Shreveport Articles
(click to expand or collapse)
Cultural Preservation: Keeping the Flame Burning for Future Generations
Seasons and Cycles — Festivals and Rituals Mark Life's Rhythms
Of Hand and Heart: Handwork Connects Family and Community



Shreveport's Greek Community: Cultural Treasure Spanning Generations and an Ocean
By Laura Marcus Green
Cooking Up Community and Connection: Sophia Booras
Sophia Booras is another member of the St. George Greek Orthodox Church community who is recognized for her cooking. She is known for her outstanding traditional Greek pastries and savory dishes. Yet, Sophia did not arrive in the U.S. knowing how to cook the traditional foods of her home country. That journey began after her arrival in Louisiana.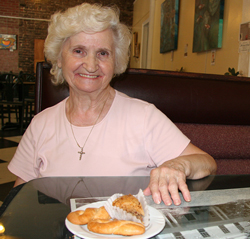 Like Dena Kosmitis, Sophia emigrated to Shreveport from Greece in 1951, when she was a teenager. She remembers her arrival in the United States as though it were yesterday, even though it was over sixty years ago. Leaving Greece in the aftermath of the Greek Civil War, Sophia recalls, "My dream was to come to this country. Here, you can do what you want." She grew up in Kata Hora, a village in the hills of northern Greece where "everybody knew everybody like family." Sophia and her family were forced to evacuate their village during the war. After spending nine days crossing the Atlantic Ocean on the U.S.S. Constitution, she remembers her pride at seeing the Statue of Liberty in New York Harbor. It was nighttime when her boat docked at Ellis Island. Everything was lit up, adding to the splendor of that moment. To her new life, Sophia brought a Greek-English dictionary given to her by an aunt when she left Greece, and family ties in Monroe, Louisiana, where she took up residence with two aunts. At that time, there were several Greek families living in Monroe. When Sophia married her husband, George Booras, in 1955, she moved to Shreveport, joining an established Greek community.
Growing up in Greece during World War II and the civil war, Sophia lived with the privations that besieged her country, including a scarcity of food. As a result, Sophia had not learned to cook during her youth, before emigrating to the United States. She remembers turning to the ladies of the Philoptochos Society at St. George for help. They were the best cooks, Sophia recalls. It was daunting, learning to cook, among all the new things she was absorbing. But Sophia accepted her situation, telling herself, "They can do it, I can do it. Don't say 'never.' It's not in your vocabulary." She would ask the older ladies about a traditional dish, "How do you make it?" They showed her how to make savory dishes like moussaka and pastitsio, among other staples of Greek cuisine. She learned to make her own filo, the paper-thin layers of pastry dough used to make Greek favorites like baklava (a honey-and nut laden pastry) and spanakopita, a spinach and feta cheese pie. Since the older women did not work outside the home, they had time to make their own filo. Sophia found that she enjoyed learning to cook, especially pastries.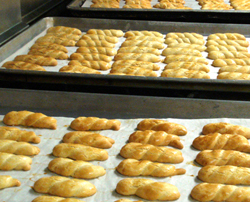 Sophia's daughter, Georgia Booras, is a lifelong fan of her mother's cooking, proudly calling her mother, "the Baking Queen." Georgia likes just about everything her mother makes, but she does have her favorites. Among these are spanakopita and pastitsio. Sometimes called Greek lasagna, pastitsio is a casserole made with thick macaroni, ground beef, cheeses, and a béchamel sauce. Georgia is also partial to her mother's desserts. She especially like's Sophia's kourabiedes, almond cookies covered in powdered sugar, which Georgia says melt in your mouth. Kourabiedes are traditionally a wedding cookie. Sophia has made them for many a wedding for family and close friends. Georgia remembers that when her best friend was married in Florida 15 years ago, Sophia made kourabiedes for the reception. Georgia carefully carried the cookies in a Tupperware container, tucked into her carryon bag.
Throughout Georgia's childhood, Sunday afternoons were a time when people gathered at her home after church each week for family dinners, a tradition that continues to this day. Sunday mornings, Sophia rises early to begin her cooking before going to church. Georgia reports that as she prepares for church, their home fills with the aromas of her mother's cooking-roasts, chicken, or lamb, as well as baked savory and sweet delicacies to be shared later in the day during family time. From her youth, Georgia recalls name days as another occasion for large family dinners. April 23rd is the feast day for St. George, so that was always a big celebration in the Booras household, marking the name day shared by Georgia, her father, and the patron saint of their church.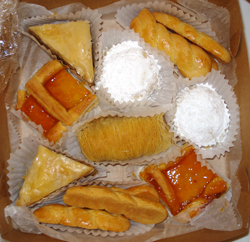 Since St. George Greek Orthodox Church initiated its Greek and More Cultural Festival in 2009, Sophia has served as pastry chairman for the event. Sophia calls cooking her hobby. She enjoys reading cookbooks and making creative substitutions with the ingredients she likes. When Sophia retired, she found that she grew bored staying at home. She remembers thinking, "What am I going to do? Sit in a rocking chair?" Now, she cooks several days a week at Lilah's Deli & Bakery in the Highland neighborhood, just a few blocks from St. George Greek Orthodox Church. There, she prepares Greek pastries like baklava (for which she is especially known) and koulourakia (butter tea cookies), and savory dishes like Greek salad, soups, and sauces. Of her four children, one daughter has picked up some of her mother's cooking skills. When others ask for her recipes, Sophia shares them easily from memory. None of her recipes are written down. Since she lives with her mother, Georgia tries to record some of the recipes as her mother works in the kitchen, so the family will always have them.
Looking back, Sophia says that she is happy to live in Louisiana. It is a completely different life from the one she left behind so many years ago. She is proud to be an American citizen. For her children, grandchildren and other community members, Sophia is a link to another place and time, building cultural connection through the food she so happily prepares for her family, community, and anyone lucky enough to stop by Lilah's.