VIRTUAL BOOKS
Table of Contents
(click to expand or collapse)



Azzie Roland was born in 1916 and raised on a farm near Marion, Louisiana, in Union Parish. His father and uncle taught him the craft of white oak basketry. As a young man, until 1940, he was a farmer. He then spent a number of years cutting pulp wood in Alexandria, Louisiana, in Gilmer, Texas, and in Mississippi. While in Texas, Azzie met his wife, Nina Mae Holland.
From 1942 to 1946, Azzie served in the U.S. Army and was stationed in Virginia, Georgia and New York, as well as France and Germany. In 1946, he returned to Marion and from there went to cut pulp wood in Tallulah, Louisiana until 1953. At that time, he moved his family to Chicago, where a cousin and brother were already living. There, Azzie worked for Republic Steel until his retirement at age 62.
All those years, however, Azzie maintained strong ties with Louisiana and always planned on coming back eventually. Most of his six children (three boys and three girls) returned to college in Louisiana.
After he moved back to Marion to retire, Azzie returned to basketmaking as a pastime until his death in January 1992. Working in his backyard and small shop, he made all sizes and shapes of baskets--laundry baskets, large round cotton baskets, gizzard baskets, and small children's Easter baskets. In addition to the white oak baskets and chair bottoms, he occasionally made sedge grass baskets that were sewn together with white oak strips. Azzie had also returned to gardening, and with the help of his grandson grew tomatoes, Irish potatoes, purple hull peas, and watermelon.
Azzie Roland's split oak and sedge grass baskets
As a young man, watching his father weave baskets, bottom chairs, and make rugs and mule collars from cornhusks, Azzie never thought that he'd make baskets when he retired. He had helped his father by pulling splits for him and simply learned by being around it so much. While working in Texas, Azzie had bottomed a few chairs. He had shown his neighbor that he could do it, and then the orders started coming in. When Azzie moved back to Marion, people started coming to ask for baskets--they simply knew it was in the family. Two of his brothers had also made baskets.
For his great variety of basket types, Azzie used oak trees up to the size of a stovepipe. The sap part was used for the body of the basket and the heartwood could be used for trim.
Azzie said, "A round basket is just like a person--it has thirty-three ribs when finished. You only lay down thirty two, but then you have to add another." Square baskets can have more or less according to their size.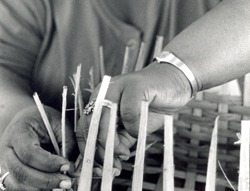 Azzie was recognized for his skill in 1985 when he was invited to the Festival of American Folklife in Washington, D.C. He was also frequently invited to the Louisiana Folklife Festival and the Natchitoches Folk Festival.
Azzie was delighted to have the opportunity before his death to teach his art to his daughter, Alice, who came back to Marion from Chicago in 1969. Following a divorce, in 1980, she moved into her parents' home. Alice has two children of her own and one stepson. She also has a Master's degree in special education plus additional post-graduate work and at that time taught special education at the Marion High School. Susan Roach, a folklorist at Louisiana Tech, and Maida Owens with the Louisiana Folklife Program encouraged Alice to participate in the Apprenticeship Program and learn basketry from her father.
Regarding her father's craftsmanship, Alice said, "I, like many others in my family, took Dad's gift for granted . . . . [I said] anybody can do that. Well, I'm singing a different tune now. Daddy [was] a master and [made] basket weaving look so simple. Thanks to the folklife apprenticeship, I now know how involved what I took for granted really is."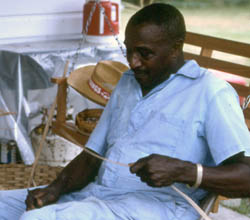 Alice acquired the skills of laying down, running up, warping, and trimming white oak baskets (round, rectangle, and square). She also worked up enough splits to bottom three chairs. Alice says that working splits for chair bottoms appears to be the most difficult skill for her to acquire. She feels that her work on sedge grass baskets has been very slow. Indeed making them is very time consuming. Yet, she is grateful that she had the opportunity to have the apprenticeship and before her father's death she said: "I feel that this is only the beginning, it is now a commitment for life. Dad and I will continue to work together. I want to perfect my white oak baskets. I will spend much more time on sedge grass baskets, because as far as we know, Dad is the only artist doing this type of work. I plan to keep this family heritage alive."
Speaking about the apprenticeship at the 1991 Louisiana Folklife Festival Azzie said, "I feel this was a great thing. I'm glad to see a push given to something like this art . . . not something to take life, like a bomb. This folk art gives us something nice to look at and be pleased with. I'm sure now that my daughter, Alice, will make baskets of white oak and sedge grass and bottom chairs. I really don't believe she would have started had we not got involved with this program. With her being a teacher, I do hope with a little more teaching from me, she will teach others. Thank you for not letting this part of my life die, but to grow and keep on keeping on. I want to leave it in somebody's hands and I would like it to be her." Luckily, he was able to do so.