VIRTUAL BOOKS
Table of Contents
(click to expand or collapse)



Raymond Blakes was born in 1934 in the North Louisiana town of Mira. He grew up in a community where the basic form of musical expression was the blues. His older brother played the guitar and as a young teenager, Raymond picked up their instruments whenever he could. However, since he could not afford his own guitar at that time, he learned the art of building and playing one-stringed guitars. These were constructed on the side of buildings throughout his hometown area--just about anywhere that people got together to jam. Wherever friends gathered to talk and drink a little home-brewed beer, a little bit of Raymond's blues just went right along with it.
To make a one-stringed guitar, Raymond used the wire binding from a broom for his string. The ends were worked in between two brick bats, one at the top and one at the bottom. A glass bottle neck, about as big around as a half dollar and four inches long, was used for a slide. Some of Raymond's information about these innovative instruments is included in Big Road Blues: Tradition and Creativity in Folk Blues by Dr. David Evans, a noted blues authority from Memphis State University.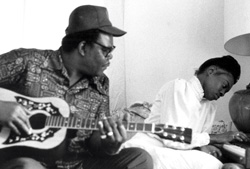 In 1959, in the town of Wilson, Arkansas, Raymond met his wife Ernestine. They formed a band together, with Ernestine on drums. Starting out, they didn't have any fancy instruments. By then, Raymond had a guitar, but for the rest of the band he improvised by building a one-stringed bass out of a five-gallon paint can. Initially, Ernestine's drum set was simply a big bass drum. Gradually, as jobs brought in some money, they were able to replace the makeshift instruments. They played in various clubs in the area around Osceola, Arkansas, where blues music was in such high demand that they played almost every night. Raymond was also holding down a full-time job; however, after a few years, and a series of strokes, he had to ease up a bit. He certainly hasn't stopped, though. Playing the blues is his fate, Raymond has said, and he puts everything he has into it.
The Blakes now reside in Shreveport, where Raymond entertains at local clubs with his Flying V guitar. He has played in Memphis and at the New Orleans Jazz and Heritage Festival, as well as the Louisiana Folklife Festival, the Natchitoches Folk Festival, the Red River Revel, and the Grassroots Festival. He has also performed with the great blues musician, Albert King. Other bands with which Raymond had played are The Bluebirds and A-Train. In 1987, he received the "Governor's Music Award for Outstanding Achievement in the Field of Music and Entertainment" presented by the Louisiana Music Commission. Clarastine Cook, daughter of Raymond and Ernestine, shares her parents' natural aptitude. Although she had grown up in this outstanding blues family, she did not begin to take a deep interest in following in her parents' footsteps until a few years ago at the age of 24. Ernestine purchased a used keyboard for her daughter and this spurred Clarastine to become involved in her musical heritage and to begin to learn. In addition to the keyboard, she is apprenticing with her father to learn the guitar. Assistance from the Louisiana Folklife Program has helped this apprenticeship to further develop. Perhaps one day Clarastine will also have the opportunity to pass on the blues tradition to her own three children.