VIRTUAL BOOKS
Table of Contents
(click to expand or collapse)



Lula Landry and Inez Catalon were both born and raised in a rural area of Vermilion Parish in South Louisiana. Lula grew up near Abbeville in a traditional Cajun family. Inez, who still resides in the community of Kaplan, in the house where her family moved when she was a young child, comes from the Creole tradition. During the time that Lula and Inez were growing up, there wasn't much that people in that area could do for entertainment other than amusements they created for themselves. Family groups and friends would gather together in someone's home and tell stories and jokes and sing a cappella songs. The stories and songs were passed on from generation to generation along with the traditional skills of fishing, farming, sewing, and cooking. As the children worked alongside their parents, they would often hear them singing the old songs and telling jokes and tales.
Although the backgrounds of these two women are not identical, their tradition of "home music" is quite similar. Each one of these remarkable ladies has her own repertoire of songs, with very little duplication; however, the types of songs they sing, the themes of the French lyrics, and the manner in which the music and words were passed on from generation to generation are almost identical. Both Inez and Lula are the youngest siblings from large families, and neither of them had the opportunity for much formal schooling. However, they have both had an amazing wealth of information and cultural heritage to share.
Today, with the advent of modern conveniences such as television, radio, and movies, the tradition of passing songs from generation to generation has been broken. The children and grandchildren no longer feel a need or have a desire to learn the old forms of entertainment. Lula, who passed away in 1990, was in her early 80s and Inez is now in her mid-70s. There is no one in either of their families that has learned the old songs and stories or who wishes to carry on the oral tradition of "home music."
Lula, born in 1906, recalled that she had learned most of her songs before she was ten. Many of the numbers that Lula still sang up to 1990 were learned when she stayed weekends at her aunt's home. Sosthene Landry, Tante Olympe, as her niece called her, was also Lula's catechism teacher. The trip to Tante Olympe's house was made on foot and it was too far to go and return on the same day. After catechism classes were over, the time would be spent listening to stories and singing songs.
Not only did Lula Landry have a beautiful, strong singing voice, but a remarkable ear and amazing memory, as well. As a young woman, she was able to listen to a song only one time and sing it back entirely from memory. In addition to learning many traditional Cajun ballads, she also helped her husband, Elie, when he played in a big band group. None of the members of Elie's orchestra could read music, so they called upon Lula to help them learn new tunes. When bands from New Orleans or other places would come to town, Lula would memorize the newest pieces and teach them to her husband's band members.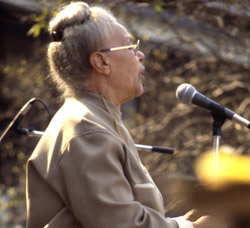 Fortunately, the cultural heritage and beautiful, unique music of the Cajun and Creole traditions has not been ignored entirely by the younger generations. Even though the family members of Lula and Inez are not carrying on the tradition, these singers did find an apprentice. In 1983, Marce Lacouture, a young woman from Texas, came to Louisiana to learn about her parent's heritage. Marce's ancestors had been part of various groups of Cajuns from Louisiana that had moved to the area around Beaumont beginning in the early 1800s and continuing in waves through this century. Marce's grandparents were from the little town of Milton in Lafayette Parish, not far from the homes of Inez and Lula. For several years, Marce made regular trips to Louisiana, but continued to reside in Texas. She would make recordings of home music and return to Austin to try to learn the songs. Eventually, Marce moved to Acadiana and received a fellowship grant from the National Endowment for the Arts to study home music in the traditional way. The grant enabled Marce to spend time with Lula and Inez in their homes, to learn the songs while working beside them in the same manner that they had learned the music from their mothers, grandmothers, and other relatives. Since Inez still lives in the same house where she lived, worked, and learned to sing the old ballads, Marce and Inez were able to actually re-create scenes from the past.
Following the grant from the National Endowment of the Arts, Marce, Lula, and Inez were awarded an apprenticeship grant from the Louisiana Folklife Program in 1987-1988. Marce maintained a close friendship with these two women, who each took her into their lives to teach her and to work with her in their homes as if she were one of their own granddaughters.
In 1976, Lula and Inez were invited to sing at the Festival of American Folklife in Washington, D.C. This was the first occasion on which the two singers had met each other. Since then, until Lula's death, they performed on the same stage numerous times.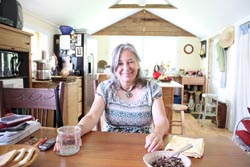 Marce Lacouture came into apprenticeship with Lula and Inez with an already impressive list of musical accomplishments and performances which included the Festival Musique Acadienne, the New Orleans Jazz and Heritage Festival, the Louisiana Folklife Festival, the Austin French Festival, the Sunday Gumbo Show in Austin, and the New York City Cajun Music Festival. Marce sings a variety of types of music in addition to home music and today she performs periodically at Vermilionville in Lafayette. In addition to being a musician, Marce wears a number of other vocational hats. She says that she has always been "either a singer who cooks or a cook who sings". Currently, Marce earns part of her living by serving as a cook/consultant for individuals who wish to learn about natural foods diet and cooking. Marce has also been a staff member of the Elder Hostel Program at the University of Southwestern Louisiana, which provides opportunities for older people to come to Acadiana to learn about Cajun and Creole culture. Marce, like her mentors before her, is definitely contributing to keeping the tradition alive!
Marcy was featured in the 2010 Homegrown concert at the American Folklore Center along with David Greely and Kristi Guillory.