VIRTUAL BOOKS
Table of Contents
(click to expand or collapse)



Introduction
By Maida Owens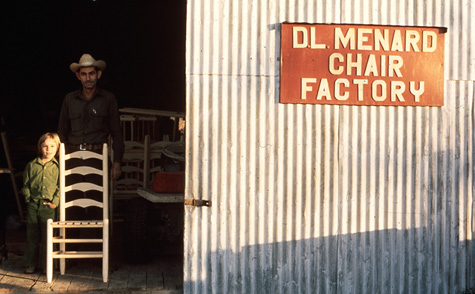 In Louisiana, one finds unique artistic expressions as diverse as old-time country breakdowns, Cajun waltzes, Mardi Gras Indians, West African drumming, cypress pirogues, Chitimacha double-weave cane baskets, Koasati Indian storytelling, and split-oak baskets. Consider what the world would be like without any of these art forms. Consider what the world would be like if we were all alike. These expressive forms represent some of the most visible cultural traits of a group of people. Each cultural group has its own distinct expressive forms that developed within its own unique set of circumstances. These artistic expressions reflect the souls of diverse peoples. Without the diverse cultures of the world, we would become bland consumers of popular culture served to us by mass media.
One might think that this is impossible. While it is unlikely that the world will evolve into one uniform culture, it is possible for us to lose many cultural forms that have come into being over hundreds of generations. The world is becoming a very small place. On a daily basis, traditional people around the world face pressure to adopt mass culture. With advertising budgets to back them up, commercial interests market to the world. And they not only market tangible consumer products, they market intangibles which supplant other aspects of traditional culture--music, dance, crafts, and foods.
But this doesn't have to be. More and more people are recognizing the threat to traditional culture and they are making efforts to support and encourage it.
Rose Fisher, Harry Lee Lafleur, Luke Thompson and Alice Roland Holley participated in apprenticeships.
Cultural conservation is a relatively new term that refers to the efforts of organizations and individuals to continue dancing, drumming, singing, and living as they wish. Cultural conservation is a form of cultural intervention, of interference in a culture by outsiders. But if the intervention is careful and thoughtful, it can help people within the culture to turn intervention into self-determination. Sometimes, a culture may need no more than encouragement that comes from mere recognition. But ultimately, we must provide each culture with the appropriate and specific tools necessary to present or support itself.
Louisiana supports traditional culture through the Louisiana Folklife Program within the Division of the Arts which has as its goal the identification, documentation, conservation, and presentation of all aspects of folk cultures in Louisiana. Louisiana's traditional culture is supported through folklife surveys, exhibits, recordings, in-school activities, and festivals funded through the Division of the Arts grants program.
In the spirit of cultural conservation, the Division of the Arts awards apprenticeship grants to qualified master folk artists enabling them to work with apprentices from within their communities to pass on an endangered art form or tradition. From 1985-1999 thirty-two folk artists representing Louisiana's diverse folk cultures have received apprenticeships. An additional six have received apprenticeships from the National Endowment for the Arts Folk Arts Program.
Lorena Langley, Raymond Sedatol, and Ruth Tyler served as masters.
Folklore or folklife is traditional knowledge that is passed on within a group informally over time. The tradition may be an artistic endeavor such as music, craft, foodways, dance, or storytelling. Or it can be an occupation, ritual, language, game, or belief practiced by an ethnic, regional, occupational, or family group. Such traditions are learned informally, not in a class or workshop, from mass media, or from a book. All segments of society have traditions and folklore.
These apprentices are continuing in the apprenticeship tradition, the way apprentices have learned throughout history. Apprenticeships are one of the ways in which traditions are passed on within a culture. It is an informal process where a master teaches an apprentice over a period of time. The apprentice slowly gains enough knowledge by observing and practicing at the side of the master until the apprentice not only learns skills, but the lore, the cultural knowledge about the tradition. For example, men may gather in a boatbuilder's workshop for companionship. One gradually takes more interest, spending more time, asking questions, assisting, and slowly mastering some of the skills. What one may consider idle chatter is actually the acquisition of the lore and history of the tradition. This is the folk process of apprenticeship. It is a very intimate relationship between the master and the apprentice. Taking on an apprentice or being one is a serious commitment and emotional investment in someone. Hadley Castille, a Cajun fiddler, told Maida Owens during an apprenticeship site visit how one of his first apprentices finally made the commitment to learn. When Louis Darby, an accomplished musician today, was 13 or 14, he started learning the fiddle from Hadley. Before starting a fiddle lesson, Louis would tell Hadley about all the work that he had to do on the farm.
One day he came and hadn't been practicing and I said, "Play what you learned this week." So he played and he said, "I didn't have much time to practice, Mr. Hadley. Uncle Ballentine and I, we had to drain the lake and get all of the catfish out of there. As far as today, we killed six chickens, and we tried to pluck all of those chickens and it took us forever to pluck the chickens.

And he went on and on, but before he got through, I took my fiddle and put it in the case, and he said, "Mr. Hadley, we're not going to work tonight?"

I said, "I don't think so, I don't think it's necessary, Louis."

"You don't?"

I said, "No, let me tell you about that; you're over here once a week, taking my time and taking your time and you haven't been practicing. And I don't think it's worthwhile for us to continue because. . . . On the other hand, if you want to be a chicken plucker--there's nothing wrong with being a chicken plucker--be a good chicken plucker. Go back and practice chicken plucking." And I said, "Don't waste my time." He put his fiddle in its case. I said, "Louis, look, I'll tell you what, within three weeks if you decide you don't want to be a chicken plucker, give me a call and come play for me. He said, "Oh, okay Mr. Hadley." Boy, he got to the back door and he walked out and I didn't hear from Louis in three weeks. One day he called me, "Mr. Hadley, how are you doing?"

"I'm doing alright, Louis. How are you doing?"

"Oh, I'm finished with the rabbits, they've all been skinned, we finished with the garden, and as far as the chickens, we've plucked all of the chickens. Can I come and play for you, Mr. Hadley?"

"Yea, come, come, come." That was his biggest story, finished plucking all of the chickens, the garden was finished, and the catfish and all, so he came back. Boy, he had practiced, he must have practiced the whole three weeks. He was ready and now he tells that story. He didn't want to be a chicken plucker the rest of his life (Personal interview, 1990).
Nonc Allie Young, Mary McCullen, Abdoulaye Camara, and David Greely participated in apprenticeships.
In today's complex society, more and more people have difficulty taking the time needed to learn the artistic traditions of their culture. Many take for granted that they will be able to learn it later in life. But today, many traditions are endangered. Many are taken for granted and are not being passed on within communities. The masters grow older, and unless the young take interest, traditional art forms can be lost.
The Louisiana Folklife Apprenticeship Program is an attempt to remedy this problem. The Program has formalized the folk process of apprenticeship to encourage the transmission of the more specialized art forms to someone in the culture. Awarding up to $5,000, these grants pay masters to teach and provide funds for supplies and travel. The apprentices' reward is the acquisition of in-depth knowledge about the tradition. Preference is given to apprentices coming from the same culture as the master. This is not a program to teach traditions cross-culturally. Nor is it a program for traditions that are in no danger of dying out or have become part of popular culture, such as gumbomaking, crocheting, knitting, or netmaking.
This virtual book profiles eleven folk artists who have participated in the Folklife Apprenticeship Program. Some of these artists maintain highly endangered traditions such as Acadian brown cotton weaving or speaking the Choctaw language. Gladys Clark is the only-known traditional Acadian weaver in the state. Among the Jena Choctaw, Mary Jones is one of only two speakers of Choctaw.
While other traditions are not quite so rare at this time, they could become so. An example is Cajun and Creole fiddling. Many younger Cajun and zydeco bands do not include a fiddler. If they do, the fiddler is frequently an older man. If this does not change, in a few years, the old French fiddling repertoire and techniques could be lost. The same situation exists in regard to countless other traditions.
Cornshuck weaving, old-time country music, Sacred Harp singing, Czech needlework, Koasati Indian dancing, Houma Indian carving, juré singing, palmetto weaving, making dolls of Spanish moss, old time blues, horsehair rope making, Isleño décima singing, old time gospel, braided whip making, and coopering are just some of the traditions in need of support. The apprenticeship pairs listed in this publication reflect a beginning. There is much more work to be done. Masters of Louisiana folk traditions are encouraged to identify an apprentice within their culture who shows a sincere desire and commitment to learn and continue the tradition and to contact the Louisiana Folklife Program regarding this program.