VIRTUAL BOOKS
Table of Contents
(click to expand or collapse)



Nancy Trahan Cooper, a fifth generation horsehair rope maker, learned to make horsehair ropes from her grandfather Zephrine Little. As a child in thie rodeo family she helped him by spinning the hand twister while he fed the hair that made the strands. She observed him and then mastered the skill after he passed away in 1983 with the help of her uncles and other older relatives. By 1999, she was the only person in her area who could do the entire process.
Nancy uses the ropes as bridle reins on a regular basis. And all of her family members do the same. She makes ropes at festivals, but also the family will spend an entire day, usually a holiday or reunion, making ropes for family members who need them. Horsehair reins last much longer that other types of rope and continue to be valued.
In 1999, Nancy received an apprenticeship to work with Lori McMahon, a former student of Nancy's at DeQuincy High School. She showed interest in the art of ropemaking and assisted her at the 1998 Louisiana Folklife Festival in Monroe before they got the apprenticeship.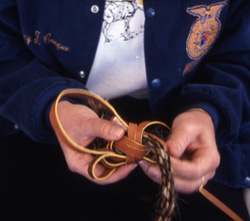 Making a rope is a three-person process. The first step is to prepare the hair by creating bundles of hair from a horse. The color of the reins determined by the colors of hair used. The bundles are fed to the twister. This is the most difficult step since it takes great skill to make the rope a consistent thickness. After a long strand is done, the strand is doubled with the two ends together, which is when the third person is needed. The strands are then twisted using the wooden twister. A new rope is prickly, but as the rope is used, it becomes very soft and supple. It is difficult to break a horsehair rope, but it can be cut.
For years Nancy demonstrated at folklife festivals in the state, often with her sister Brenda Trahan Shope, shown in these photos. Both of these fifth-generation makers of horsehair ropes, began making ropes with their mother Patsy Trahan, and two brothers.