VIRTUAL BOOKS
Table of Contents
(click to expand or collapse)



Mary Jackson Jones was born on October 7, 1930, in the town of Eden, Louisiana, in LaSalle Parish. Mary is one of the last full-blooded Choctaw people in Louisiana. She was appointed to a leadership role in their tribe, the Jena Band of Choctaw Tribe in 1990 as a member of the Tribal Council.
The Jena Choctaw Tribe consists of 155 members who possess one-quarter or more Choctaw blood quantum and are descended from five families who migrated to Louisiana from Mississippi during the time of forced removal. Between 1830 and 1907, the Choctaw Nation was forcibly removed from Mississippi to Oklahoma. In 1850, five families arrived from Mississippi to settle in Jena. The entire tribe walked to Muskogee, Oklahoma in 1902 to give testimony before the Commission of the Five Civilized Tribes. By this Commission's determination, members were declared to be full-blood Mississippi Choctaw, eligible for land allotments in Oklahoma. But since these allotments were not to be given until 1903, the group walked back to Louisiana, thus never becoming a part of the Oklahoma Choctaw Nation. In 1938, after funding an Indian school for the Jena Choctaw, the Bureau of Indian Affairs in Washington, D.C. decided to move the entire tribe to reservation lands in Mississippi, but due to the death of the Bureau of Indian Affairs' area superintendent in Philadelphia, Mississippi, the relocation never took place.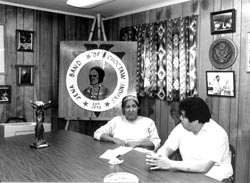 The Penick Indian School (1932-1938), which was located in the town of Trout, Louisiana--just a little way down the road from Jena and Eden--was where Mary and some of her brothers and sisters attended school. It was a small school for Choctaw young people only; however, the teachers spoke English exclusively, so all instruction took place in the students' second language. Fortunately, unlike some schools established for Indian children in other parts of the United States, the teachers did not prohibit the students from speaking in their native Choctaw among themselves. The ages of the pupils ranged from very young children, six or seven years old, to young men and women in their late teens. Mary explains that at this small school, all the age groups and grades were together. Many of the students did not begin studies that we typically think of as first grade level until they were teenagers. Although she had visited the Penick School as a young child, Mary did not go there to attend classes until she was twelve or thirteen years old, and she continued there until she was eighteen.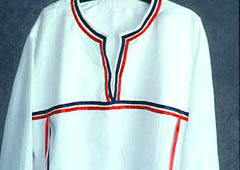 Mary's parents knew some English, but the entire family spoke only Choctaw at home. It was upon entering school that Mary and her brothers and sisters first began to use English on a regular basis. Mary must have a natural facility with languages because she says that she learned her second language quickly and easily, while retaining her command of Choctaw. Since the death of her parents and many of her brothers and sisters, Mary has little opportunity to use the Choctaw language, yet she remains fluent.
Mary's husband, C.E. Jones, is not Native American, and speaks no Choctaw. His ancestors came to LaSalle Parish from Illinois. C.E. and Mary raised six children, two of whom are still living at home. The others all reside nearby. Mary spoke her native language to her children when they were small, but as they grew older and other Choctaw speakers moved or passed away, it became more and more difficult to keep up their language skills. The two oldest children still understand a little when they hear it, but cannot respond in Choctaw. Now, Mary looks forward to visits from her brother who lives in Alabama and enjoys traveling to Oklahoma to visit various other relatives. During these times, she can carry on plenty of conversations in her first language.
Mary worked to preserve the Choctaw language by participating in the Louisiana Folklife Apprenticeship Program. She taught Choctaw to Herman Jackson, who is also full-blood Choctaw. Herman's parents spoke their native language in their home when he was a young boy in the mid-to-late 1950s; however, when Herman began first grade, he no longer spoke Choctaw, and most of it was forgotten. Like Mary's own children, he does understand some of it, and possesses a rudimentary knowledge of the language. Mary spoke Choctaw with Herman's parent's from the time they were children, until their deaths, and she has known Herman since his birth.
Mary and Herman met twice weekly at the Choctaw Community Center in Jena. They made audio tapes of their classes, which are kept at the Jena Tribal Community Center for use by others who would like to enhance their knowledge of their native tongue. Since the Choctaw language has never been written, all teaching is in the oral tradition. Mary says that although she thinks of her language as relatively simple, learning Choctaw would be quite difficult for someone who has never been exposed to it. She explains that this is because the sentence construction is different from English, and sometimes the same word is repeated several times in the course of a sentence before the full meaning comes out. It is easier to teach people who are at least part Indian because they will have been exposed to the way of thinking that leads to the way the language is put together.